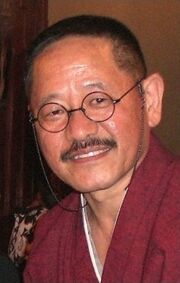 Bunmei Tobayama (外波山文明 Tobayama Bunmei, born January 11, 1947 in Nagano Prefecture, Japan) is a Japanese voice actor.
Tobayama voices the judge in Japanese promotional trailers for the games in the series, and now voices him in-game starting from Phoenix Wright: Ace Attorney: Dual Destinies. He also voiced the Labyrinth City judge in Professor Layton vs. Phoenix Wright: Ace Attorney, and the Khura'inese judge in Phoenix Wright: Ace Attorney: Spirit of Justice.
Pleeeeeeeease expand meeeeeeee!
This article is a stub or is otherwise incomplete. You can help the Ace Attorney Wiki by expanding it.
Community content is available under
CC-BY-SA
unless otherwise noted.