Oh, um, wasn't it Ms. Block? Ms. Cinder Block?
The person in question was a victim of murder, not ill-conceived naming, Mr. Wright.
Cindy Stone was a model who was the murder victim in Phoenix Wright's first case.
International model
[
]
Stone was the girlfriend of Larry Butz for a while, but she dumped him some time before her murder. Unwilling to let her go, Butz constantly tried to get into contact with her, but she ignored him completely. Although she was a model, her income was low and she had to rely on the generosity of her numerous "sugar daddies" to supplement her income. Shortly before her murder, Stone went on a photo shoot in Paris. Whilst there, she also met with one of these "sugar daddies". Although she had dumped Butz, she carried a heavy clock in the shape of "The Thinker" with her on her travels, of which Butz had made two: one for him and one for her.
Death
[
]
Main article: The First Turnabout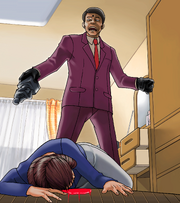 The day after her return from Paris, Stone came home to find an intruder in her apartment: the burglar Frank Sahwit. Sahwit was startled and picked up the nearest object to use as a weapon: "The Thinker". He brought it down on her head and left her to die of blood loss on the wooden floor of her home. Panicked at having committed murder, Sahwit attempted to blame the crime on Butz, who had visited the apartment earlier to try and talk to Stone. Butz went to court, represented by his childhood friend, Phoenix Wright. Despite this being Wright's first case, he uncovered Sahwit's lies and the common burglar was found guilty of Cindy Stone's murder. Wright later reassured Butz that Stone had, in fact, cared about him, as evidenced by the fact that she had kept "The Thinker".
Name
[
]