We need more pieces to finish this puzzle.
This article is under construction. While it is not short, it still needs expansion as outlined in the manual of style. The article most likely needs expansion near the end of the tagged section or sections.
This article contains information about Ace Attorney media that has been released only in Japan.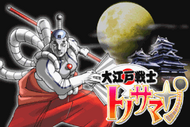 The information in this article comes from a game, demo, or other media that has been released in Japan, but not in any predominantly English-speaking country. The subject of this article has been officially revealed for English versions of this media. English versions of this content are only available through unofficial translations. More information on this can be found here.
If you have personal experience with the item of media in question, you can help the Ace Attorney Wiki by improving on this article. Please heed the manual of style when adding information.
Drama CD: Gyakuten Saiban 6 is an audio drama based on the characters in Phoenix Wright: Ace Attorney: Spirit of Justice. There are two episodes in the drama, the Khura'in Kingdom Edition [Turnabout Exorcism?] and Japan Edition [Turnabout Training ~Teach Us, Mr. Edgeworth!~][1]
Maya Fey gets caught up in a ghost attack that breaks many of the Holy Mother's statues and is accused of breaking them by Rayfa Padma Khura'in and Nahyuta Sahdmadhi. Fey and Phoenix Wright then end up getting haunted by the same ghost.
Meanwhile, Apollo Justice and Athena Cykes train under Miles Edgeworth on a request from Wright to learn how the courtroom works from the prosecution's side. To do so, they performing minor tasks and end up assisting him at a trial, although the defense attorney's lack of effort at the trial lead them to taking up the defendant's defense.
Characters
Edit
References
Edit
↑ http://www.forums.court-records.net/viewtopic.php?f=49&t=32109 Rubia Ryu the Royal. Retrieved 2016-08-19.
Community content is available under
CC-BY-SA
unless otherwise noted.