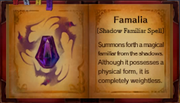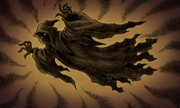 Famalia is listed in the Grand Grimoire as one of the possible spells usable by witches in Labyrinthia. It is described as summoning a shadow familiar that possesses a physical form but is completely weightless.
Its English name simply comes from "familiar".
"Umbris" and "Umbra" (the names for the spell in the French and German localizations, respectively) come from the Latin work "umbra" (shadow/shade/ghost).
The spell's Italian name is "Spectrum, which is a Latin word meaning "spectre".
Pleeeeeeeease expand meeeeeeee!
This article is a stub or is otherwise incomplete. You can help the Ace Attorney Wiki by expanding it.
Community content is available under
CC-BY-SA
unless otherwise noted.