The Gatewater Land main gate is the entrance to the Blue Badger theme park owned by the Gatewater Group. The original Blue Badger made by the Chief of the Criminal Affairs Department and Detective Dick Gumshoe stands here. During Miles Edgeworth's investigation into the apparent kidnapping of Lance Amano, the Chief could be seen admiring his plywood creation; his daughter, on the other hand, seemed scared of it.
Phoenix Wright, Maya Fey, and Pearl Fey took a row boat ride together at the time of Edgeworth's visit. However, neither the trio nor the prosecutor seemed aware of each other's presence.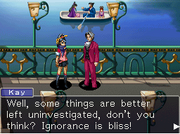 The Wright, Maya, Pearl, and Chief cameos are entirely optional and easily missed. At the beginning of The Kidnapped Turnabout Middle, Part 2, Edgeworth can leave the Wild, Wild West area to revisit the main gate. There, he can find the Chief with his daughter, as well as Wright, Maya and Pearl riding their boat in the background. Although Edgeworth can interact with the Chief, he cannot interact in any way with Wright, Maya or Pearl, and their presence is not even acknowledged. In order to see these cameos, the optional visit to this area must be done before entering the kidnappers' hideout because they will have disappeared by the time the Blue Badger costume is found at the beginning of End, Part 1.
Pleeeeeeeease expand meeeeeeee!
This article is a stub or is otherwise incomplete. You can help the Ace Attorney Wiki by expanding it.
Community content is available under
CC-BY-SA
unless otherwise noted.