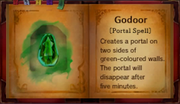 Godoor is listed in the Grand Grimoire as one of the possible spells usable by witches in Labyrinthia. It is described as a portal spell that allows the caster to create a portal on two sides of green-colored walls, with the portal disappearing after five minutes.
It was supposedly used by Jean Greyerl in order to manipulate a crime scene at the former home of Newton Belduke.
Pleeeeeeeease expand meeeeeeee!
This article is a stub or is otherwise incomplete. You can help the Ace Attorney Wiki by expanding it.
Community content is available under
CC-BY-SA
unless otherwise noted.