This article contains information about Ace Attorney media that has been released only in Japan.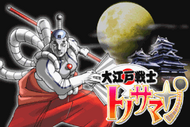 The information in this article comes from a game, demo, or other media that has been released in Japan, but not in any predominantly English-speaking country. The subject of this article has not been officially revealed for English versions of this media. English versions of this content are only available through unofficial translations. More information on this can be found here.
If you have personal experience with the item of media in question, you can help the Ace Attorney Wiki by improving on this article. Please heed the manual of style when adding information.
"Governor Miller" is a song introducing the character of Governor Miller Arthur in the musical Gyakuten Saiban: The Truth Reborn. In this scene, the news of Senator Robert Cole's murder is still fresh. It is implied by this time in the musical that the Senator was to be Governor Miller's adversary in the upcoming presidential election. In the middle of the number, he makes his entrance with his assistant, Sarah Shelly, and delivers a sensational speech that pleases the crowd around him (consisting of 15 other cast members). It appears as if he can do no wrong.
REPORTERS

Murder!
Murder!
Murder strikes again!
A huge incident
that's thrown the world
into sheer chaos!
And to make matters worse,
the governor's very own
legal advisor is the one
who committed this terrible crime!
FEMALE REPORTER

Poor Governor Miller!
And right before the presidential election, too!
MALE REPORTER

Governor Miller, friend of the people
is in an uproar over this incident!
GOVERNOR MILLER

(spoken) Everyone, I apologize for the commotion. Concerning the crime perpetrated by my legal advisor, Leona Clyde... I offer my deepest apologies. Nothing can excuse this heinous crime. And to think that my own legal advisor did this... I feel personally responsible. I will get to the bottom of this. And to ensure something like this never happens again, I vow to forge a peaceful country with these very hands, and to prepare myself for whatever lies ahead.
REPORTERS

Just as we expected
from our Governor Miller!
Through thick and thin
he's a friend of the people!
Just as we expected
from our Governor Miller!
Through thick and thin
he's a friend of the people!
Community content is available under
CC-BY-SA
unless otherwise noted.