This article contains information about Ace Attorney media that has been released only in Japan.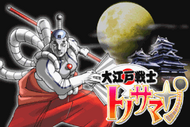 The information in this article comes from a game, demo, or other media that has been released in Japan, but not in any predominantly English-speaking country. The subject of this article has not been officially revealed for English versions of this media. English versions of this content are only available through unofficial translations. More information on this can be found here.
If you have personal experience with the item of media in question, you can help the Ace Attorney Wiki by improving on this article. Please heed the manual of style when adding information.
Big Tower is a 51-story corporate skyscraper in Los Angeles. It is relatively newly built, constructed around 2018 on the site of the former Happy Family Home orphanage. Aside from the entrance gate, the orphanage completely demolished. In 2019, Global Studios made use of its vacant premises to film scenes for their Borumosu movie remake.
Layout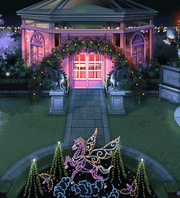 Most of the tenants in the building are corporate offices. There is also a newspaper company, where Lotta Hart and Mikiko Hayami often contribute.
On the rooftop, there is an observation deck available to the public, with an admission cost. It is a famous date spot and couples holding hands there are said to be forever happy. There is also a highly profiteering cotton candy stall called "Scattered Memories" and, in the center of the roof, there is a lit-up wire-frame statue of a horse with Pegasus-like wings and a Unicorn horn, fittingly called "Contradiction".
In circa 2019, the Prosecution Investigation Committee Headquarters were moved into the 50th floor, which was even advertised in the Big Tower pamphlet. Although the pamphlet also states that there are 50 floors, there is actually a hidden 51st floor, accessible only by maintenance shafts from the rooftop or by a secret lift from the floor below. This floor served as a storage area for evidence sold in black market auctions that took place in the building.
Name
The tower's English name in the fan translation of Gyakuten Kenji 2 is "Grand Tower".
Trivia
Because of how the tower is of key relevance to the game's final two cases (and it's name is referenced in the game's final case), it is somewhat similar to the Dusky Bridge of the third game.