This article contains information about Ace Attorney media that has been released only in Japan.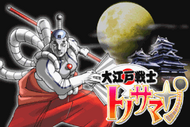 The information in this article comes from a game, demo, or other media that has been released in Japan, but not in any predominantly English-speaking country. The subject of this article has not been officially revealed for English versions of this media. English versions of this content are only available through unofficial translations. More information on this can be found here.
If you have personal experience with the item of media in question, you can help the Ace Attorney Wiki by improving on this article. Please heed the manual of style when adding information.
Miles, the path you choose... That's up to you.
— Gyakuten Kenji 2 December trailer
Gyakuten Kenji 2 (逆転検事 2 Gyakuten Kenji 2, lit. "Turnabout Prosecutor 2"), also referred to as Ace Attorney Investigations 2 by Capcom staff, is the sequel to Gyakuten Kenji (known as Ace Attorney Investigations: Miles Edgeworth in English) and the sixth game in the Ace Attorney series of text adventure video games. Prosecutor Miles Edgeworth, Detective Dick Gumshoe, and self-proclaimed "Great Thief" Kay Faraday reprise their roles as main characters in the game. Motohide Eshiro, Takeshi Yamazaki, Minae Matsukawa, and Noriyuki Iwadare also reprised their roles as producer, director, art director, and soundtrack composer, respectively.[1] The game was announced in the September 2010 issue of Famitsu, with a scan of the announcement page revealed on the internet on September 7, 2010.
A release outside of Japan is currently not planned. On March 18, 2011, during a live streamed Q&A session with Capcom employees, upon being asked whether "Ace Attorney Investigations 2" would be released outside of Japan, Christian Svensson (then senior vice president of Capcom USA) replied, "No. Sorry about that."[2] He later clarified on Capcom's forums, "The costs of localization [on the Nintendo DS] are higher than the forecasted return. [...] I realize there are fans who would like to have this and I'll be sure to explore ways that could happen viably in the future with our strategy and R&D teams but no promises."[3] In the wake of petitions to have the game localized, Svensson mentioned that niche titles like Gyakuten Kenji 2 could be good candidates for digital distribution.[4] Svensson reportedly attempted to convince Capcom to greenlight Ace Attorney Investigations 2 for another medium,[5] but left Capcom on July 11, 2013 due to staff reorganization.[6] In lieu of an official release, a fan-made English patch of the game has been developed under the name Ace Attorney Investigations: Miles Edgeworth: Prosecutor's Path.
Gameplay
All of the main features seen in the previous game returned for interation, including the investigation/argument structure, the logic gameplay mechanic and Little Thief. Little Thief itself has been given updates such as the ability to recreate an area in multiple instances of time. In addition, the metal detector seen in Turnabout Goodbyes and Bridge to the Turnabout returned for The Imprisoned Turnabout. The police dog Missile is also used as a gameplay during The Imprisoned Turnabout. Ema Skye also returns to re-introduce luminol and fingerprint testing in The Forgotten Turnabout, and instances of video inspection are also included in The Imprisoned Turnabout and The Grand Turnabout.
Logic Chess
Gyakuten Kenji 2 features a new gameplay element called "Logic Chess". When interrogating a person who refuses to testify, the background changes to a chessboard with chess pieces, as if Miles Edgeworth and the other person were in a mental chess match. Similarly to the magatama feature in Phoenix Wright's games, this feature is used to pry secret information from various people. However, instead of just presenting evidence, the player is presented with two or more options at each decision prompt.[7]
There is a time limit to this mental exchange; when it expires, the opponent will change his or her mind and not entertain Edgeworth further. This emphasizes the need to analyze the situation quickly and adapt to each opponent's personality. For example, against a cautious opponent, one may want to ask a question that they are guaranteed to answer. Through this, Edgeworth can slowly gain information needed to "win".[8]
When the opponent makes a suspicious statement, a chess piece icon appears next to one of the choices, marking it as the critical "move" to make to knock out one of the opponent's pieces. Edgeworth can either choose to pursue this or choose to wait to get into a better "position" in the "game". By choosing incorrectly (i.e., waiting for too long or striking too soon), Edgeworth risks incurring a penalty to his time limit.[7][8]
Story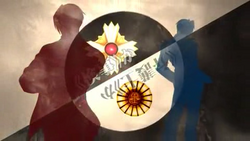 The story mainly revolves around Edgeworth's struggle to determine the meaning of his job in relation to finding the truth behind a collection of cases. This is exacerbated when he becomes a target of the so-called "Prosecutor Purge", an inquisition conducted by the Prosecutorial Investigation Committee intended to weed out and replace prosecutors who are judged to be incompetent or acting inappropriately. Judge Hakari Mikagami is mysteriously sent to cases that Edgeworth is investigating and attempts to replace him with a younger, less competent prosecutor named Yumihiko Ichiyanagi. Edgeworth himself risks his badge in order to continue his quest for the truth. In the meantime, he faces a personal conflict when he meets Tateyuki Shigaraki, a defense attorney who used to be an assistant to Edgeworth's father Gregory Edgeworth and has taken over the Edgeworth Law Offices after his death. Shigaraki offers the younger Edgeworth the chance to follow in his father's footsteps and become a defense attorney.
Episodes
Timeline
Main article: Timeline
Dick Gumshoe's age is given as 32 in the Tokyo Game Show demo, and the demo case occurs on March 25, which puts the full date of the first case at March 25, 2019, ten days after Turnabout Ablaze.
Characters named during development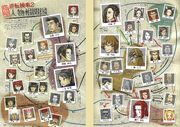 The following is a list of characters who were named before the release of Gyakuten Kenji 2. The full character list for each episode can be found in its corresponding article.
Major characters
Gregory Edgeworth - Miles's father, who a talented defense attorney until DL-6 Incident. He is playable in parts of The Inherited Turnabout, which follows the investigation into his final case.
Tateyuki Shigaraki (信楽 盾之) - a laid-back defense attorney who was Gregory Edgeworth's assistant when he was younger. Named "Raymond Shields" in the unofficial English fan translation patch, but likes to be called "Ray".
Hakari Mikagami (水鏡秤) - a no-nonsense judge who seems to want to take away Miles Edgeworth's prosecutor's badge and ability to investigate cases. Named "Justine Courtney" in the unofficial English fan translation patch.
Yumihiko Ichiyanagi (一柳 弓彦) - a laughably incompetent prosecutor whom Mikagami wishes to replace Miles Edgeworth with. Named "Sebastian Debeste" in the unofficial English fan translation patch.
Returning characters
Turnabout Target:
"John Doe" - a suspect who claims to be a simple ice-cream salesman.
Winston Payne[8] - a prosecutor who was present in the audience when the assassination attempt on Teikun Ō was made during the latter's speech.
The Imprisoned Turnabout:
The Inherited Turnabout:
Manfred von Karma - a feared legendary prosecutor who tried to obstruct Gregory Edgeworth's investigation.
Larry Butz - a childhood friend of Miles Edgeworth's who frequently changes jobs and girlfriends.
The Forgotten Turnabout:
Franziska von Karma - a competitive young whip-wielding prosecutor working with Interpol who is Miles Edgeworth's adoptive sister.
Lotta Hart - a hot-tempered photo journalist who is always searching for her next scoop.
Ema Skye - a forensics-obsessed teenager.
The Grand Turnabout:
Will Powers - an actor with a gentle personality, but always given roles that hide his face due to his imposing appearance.
New characters
Turnabout Target:
Mikiko Hayami (速水ミキコ) - a reporter who regards Lotta Hart as her mentor. Her name is a pun on "hurry", which is fitting for her spontaneous personality.[11] Named "Nicole Swift" in the unofficial English fan translation patch.
Manosuke Naitō (内藤 馬乃介)[8] - one of the president's bodyguards. A man who likes to play chess and is rather liberal about playing with his gun. "Naitō" comes from the English word "knight", while the "Ma" in his given name means "horse", making his the full name a double reference to the knight piece from chess. Named "Horace Knightley" in the unofficial English fan translation patch.
Gai Tojiro (外城 涯) - another one of the president's bodyguards and the victim. Named "Ethan Rooke" in the unofficial English fan translation patch.
The Imprisoned Turnabout:
Marī Miwa (美和マリー) - the director of the prison and detention center. Her name comes from "mimawari", which means "patrol". Named "Patricia Roland" in the unofficial English fan translation patch.
Sōta Sarushiro (猿代草太) - a man whose actions are reminiscent of the Three Wise Monkeys. His name comes from "saru", which means "monkey". Named "Simon Keyes" in the unofficial English fan translation patch.
Shūji Orinaka (折中秀治) - a boxer convict with a pet polar bear cub called Mark. His name is a pun on "ori no naka, shuujin", which means "prisoner in a cage". Named "Jay Elbird" in the unofficial English fan translation patch.
Ryōken Hōinbō (鳳院坊 了賢) - a feared blind assassin who works alongside his large black dog Kuro, but is now imprisoned thanks to Miles Edgeworth. Named "Sirhan Dogen" in the unofficial English fan translation patch, while Kuro is changed to "Anubis".
The Inherited Turnabout:
Issei Tenkai (天海一誠) - a famous pastry chef considered the number one in the world and starred in the TV show Dansweets, where he would sing and dance while making confectionery items. The prime suspect in the IS-7 Incident and Gregory Edgeworth's client. Named "Jeff Master" in the unofficial English fan translation patch.
Tsukasa Oyashiki (緒屋敷司) - Tenkai's servant, housekeeper, and co-star on Dansweets. Named "Katherine Hall" in the unofficial English fan translation patch, but often referred to as "Kate".
Delicy Scone (デリシー・スコーン) - a pastry chef who is much older than she appears. Named "Delicia Scones" in the unofficial English fan translation patch.
Yutaka Kazami (風見 豊) - a pastry chef whose creations are delicious, but have terrible design. Named "Dane Gustavia" in the unofficial English fan translation patch.
Paul Holic (ポール ホリック) - the victim in the IS-7 Incident. He is actually a sculptor, and went by the pseudonym "Isaku Hyōdō" (氷堂 伊作) in the dessert-making competition. Named "Pierre Hoquet" (with the pseudonym "Isaac Dover") in the unofficial English fan translation patch.
The Forgotten Turnabout:
Tōko Mutō (武藤 瞳子) - a nurse at the Itami Hospital. Named "Karin Jenson" in the unofficial English fan translation patch.
Otome Itami (伊丹 乙女) - the elderly director of the Itami Hospital who sometimes acts as a coroner for the police. Named "Bonnie Young" in the unofficial English fan translation patch.
Bansai Ichiyanagi (一柳 万才) - former Chief Prosecutor and Yumihiko Ichiyanagi's father. Named "Blaise Debeste" in the unofficial English fan translation patch.
Tsubasa Kagome (籠目 つばさ) - the victim and a defense attorney. Named "Jill Crane" in the unofficial English fan translation patch.
The Grand Turnabout:
Shimon Aizawa (相沢詩紋) - a bratty child actor. Named "John Marsh" in the unofficial English fan translation patch.
Ryūji Kamei (亀井 隆二) - the victim in the SS-5 Incident and former boyfriend of Tsubasa Kagome. Named "Jack Cameron" in the unofficial English fan translation patch.
Development
Pre-announcement
After the release of Ace Attorney Investigations: Miles Edgeworth, an interview with producer Motohide Eshiro revealed that he had contacted core series producer Minae Matsukawa offering his services in developing a new Ace Attorney game, in response to the positive fan reaction to Ace Attorney Investigations.[12][13] Development started on September 2009; the developers went to a "training camp" to talk about the game all day for this purpose.[14]
Post-announcement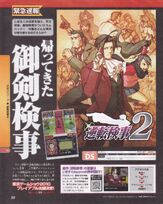 Gyakuten Kenji 2 was revealed in the September 7, 2010 issue of Famitsu, showing Miles Edgeworth, Dick Gumshoe, and Kay Faraday, along with some gameplay pictures and a new gameplay feature with a chess-based theme. Shelly de Killer and a new character with thick red hair and beard were also seen. The article stated that the game would focus more on Edgeworth himself than on other characters and past events, revealing a more "human", conflicted side that has never been seen before. The official website launched around the same time.
At Tokyo Game Show 2010, three new characters were officially revealed and named. The character from the Famitsu article was revealed to be Teikun Ō, the president of Zheng Fa, and Hakari Mikagami and Mikiko Hayami were revealed as well. A trailer of the game was shown, featuring returning gameplay elements like Logic and Little Thief, as well as the new chess-based gameplay feature, now called "Logic Chess". In addition, a demo of the first case was available at the event. On November 2, the official website revealed the game's box art and a release date of February 3, 2011. The box art features Miles Edgeworth, Kay Faraday, Hakari Mikagami, and male character who had previously been seen only as a brief silhouette in the trailer.
Subsequent revelations before the release were primarily done through Famitsu issues, each followed shortly by a website update:
November 18

Featured case: Turnabout Target.
Featured character: Manosuke Naitō (内藤 馬乃介), the president's bodyguard.
More about Logic Chess was revealed. The Japanese CERO rating was revealed as B, like the other Ace Attorney titles.[8]
A Nintendo Dream issue also featured an article about Gyakuten Kenji 2 and Layton-kyōju VS Gyakuten Saiban, both mostly repeating the same information about Gyakuten Kenji 2.[15]
At the beginning of December, the demo from TGS became playable on the official website, and some details of the second case were revealed as well, including a prison location and Hakari Mikagami's role in evaluating Edgeworth as a prosecutor. Yumihiko Ichiyanagi, another previously silhouetted character, was revealed to be a prosecutor to whom Mikagami is attempting to give Edgeworth's case.
December 16

Featured case: The Imprisoned Turnabout.
Featured characters: Previously unnamed major character Tateyuki Shigaraki, the more recently revealed Yumihiko Ichiyanagi, and some new characters.
A second trailer was also released featuring all of the known major characters as well as the return of the metal detector and Missile. The official website, meanwhile, revealed more characters, including Tateyuki Shigaraki and two new characters.
December 22 - The last silhouetted character from the first trailer, Marī Miwa, was introduced.
Localization
In March 2011, Capcom's Christian Svensson stated that there were no plans at the time to release Gyakuten Kenji 2 in regions outside of Japan. In an interview with Siliconera in December 2011, Svensson stated that the potential for a downloadable, digital release of Gyakuten Kenji 2 exists, but that he couldn't say that it definitely would happen, and that "conversations are ongoing internally about how to address the audience that's clamoring for more Ace Attorney goodness".
In a live "questions and answers" video in January 2012, Svensson again said that he had not given up on trying to get Gyakuten Kenji 2 released in the West, that conversations remained ongoing, and that he was "cautiously optimistic that some day, that content will exist in the West in some form." In March 2012, he once again said that an English release of the game was "an open discussion point", and that he hoped that "the fans are still patient with us".
In August 2012, a Capcom employee said that if Phoenix Wright: Ace Attorney Trilogy HD, an iOS remake of the first three Ace Attorney games, was a success, it would increase the chances of getting Gyakuten Kenji 2 localized.
In September 2012, when asked if high sales of Phoenix Wright: Ace Attorney HD Trilogy and the then upcoming Nintendo 3DS title Gyakuten Saiban 5 (later localized to Phoenix Wright: Ace Attorney: Dual Destinies) would help sway a decision about localizing Gyakuten Kenji 2, Christian Svensson said that the game "isn't being held hostage so please don't read this that way but if they do well, they certainly can't hurt". He also added that the sales forecasts for Gyakuten Saiban 5 were high compared to how well previous entries in the series had done commercially, which was necessary in order to get it released in the West.
Fan patch
In September 2013, a GBAtemp user named "Auryn" released the first English fan translation patch for the game. The initial patch translated the first two cases, with a second patch containing a fully translated third case late released in March 2014. In June of the same year, an update with the two other cases were released, with additional information stating that the developer would try to optimize the patch size on a later date.[16] On June 14th, 2014, the full patch was released.[17]
Editions
Gyakuten Kenji 2: The standard edition, which contains just the game with no extra content.
Gyakuten Kenji 2 - Collector's Package: which contains the game, an orchestral soundtrack CD composed by Noriyuki Iwadare, a promotional DVD, and a booklet with an original manga penned by Tatsuro Iwamoto.
Gyakuten Kenji 2 - Extended Edition: which includes the game and a Miles Edgeworth figurine.
Gyakuten Kenji 2 - Limited Edition: which includes all of the above.[18]
Reception
Gyakuten Kenji 2 received a 8/8/8/8 score from Famitsu, for a total of 32/40.
Theme park attraction
Sega built a theme park attraction called Gyakuten Kenji in Joypolis (逆転検事 in ジョイポリス) in its Joypolis theme park, which is dedicated to the Gyakuten Kenji games. Each visitor is given around 20 minutes to investigate a crime scene and look for clues.[19]
Anti-piracy measures
The file used to run Gyakuten Kenji 2 contains some anti-piracy measures that detect the legitimacy of the file and attempt to impede the gameplay if the file is deemed unauthorized. Unauthorized game files are typically ROMs ripped from the game cartridge. For this game in particular, dialogue text is converted into an unreadable font normally reserved for the Borginian fictional language, and organizer descriptions are replaced by Xs. The unofficial English fan patch overrides these measures.
References
External links
Official website
Trailers
Misc.
Localization petitions
Community content is available under
CC-BY-SA
unless otherwise noted.