This article contains information about Ace Attorney media that has been released only in Japan.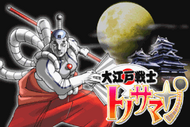 The information in this article comes from a game, demo, or other media that has been released in Japan, but not in any predominantly English-speaking country. The subject of this article has not been officially revealed for English versions of this media. English versions of this content are only available through unofficial translations. More information on this can be found here.
If you have personal experience with the item of media in question, you can help the Ace Attorney Wiki by improving on this article. Please heed the manual of style when adding information.
We need more pieces to finish this puzzle.
This article is under construction. While it is not short, it still needs expansion as outlined in the manual of style. The article most likely needs expansion near the end of the tagged section or sections.
Gyakuten Saiban: The Truth Reborn (逆転裁判 −蘇る真実; lit. "Turnabout Trial - Truth Resurrected") is the first of three musicals based on the Ace Attorney video game series. A collaboration between Capcom Japan and the Takarazuka Revue, an all-female musical theater troupe, the show starred Cosmos Troupe's Tomu Ranju in the lead role. It was first performed in February 2009 to a very positive reception, with tickets selling out on the first day[1]. This success led to a a sequel being created. Allegedly, the musical's director cleared each of the first four Ace Attorney games seven times before sitting down to write the script[2].
Although the show is a Japanese production, it uses the names from the English localizations of the games (e.g., Phoenix Wright instead of "Ryuuichi Naruhodou"). The plot itself is heavily based upon that of Rise from the Ashes, but changed so that it is more personal to the lead character, Phoenix Wright.
In New York, Phoenix Wright was thinking about his former lover Leona Clyde, when a news bulletin came on saying that Senator Robert Cole had been murdered and that Clyde was the main suspect. Knowing she would never do such a thing, he decided to defend her in court.
As the trial continued, it was revealed that Leona Clyde had tampered with the evidence, as her sister Monica had been at the scene of the crime. However, Wright eventually exposed the culprit to be none other than Leona's employer: Governor Miller Arthur.
After the trial ended, Leona still went to jail, as she tampered with the crime scene. Wright declared that he will wait for her and confessed his love for her, to which she responded by running into his arms with tears in her eyes.
The background music and sound effects used were arranged by the Revue based on Noriyuki Iwadare's orchestra score[3]. The following are the main musical numbers created just for the show in the order that they appear:
Act I
Act II
I Love You (Reprise) (愛してる (Rep.))
Believe (信じている)
The Truth Reborn (Reprise) (蘇る真実 (Rep.))
Believe (Reprise)
I Love You (Ending) (愛してる (Ending))
Finale
Main cast
Other cast members
Differences from the game
Edit
The plot of the musical is largely inspired by the events of Rise from the Ashes with some notable differences:
Although Phoenix Wright is depicted with his traditional black hair in promotional materials for the musical, his hair color was changed to blonde in the DVD recording of the show.
The judge, who is traditionally bald and sports a long grey beard in the games, is depicted with a full head of hair and only a mustache in the musical.
Maya Fey and Larry Butz, who are absent in this episode of the game, are present in the musical.
Bruce Goodman, the victim, is replaced with a new character, Robert Cole. His occupation is changed from a detective to a senator.
Lana Skye, the defendant, is replaced with a new character, Leona Clyde. Her occupation is changed from chief prosecutor to legal advisor, as well as being a past love of Wright's who was in the same elementary class as him.
Additionally, a sub-plot involving Wright and Leona Clyde being former love interests is also introduced.
Ema Skye, Lana Skye's younger sister, is replaced with a new character, Leona's younger sister Monica Clyde. Her occupation is changed from a scientific investigator-in-training to simply a student.
Damon Gant, the true culprit, is replaced with a new character, Miller Arthur. His occupation is changed from the chief of police to a governor.
Dick Gumshoe is no longer kicked out of the investigation and so takes the witness stand to deliver his usual opening testimony. He also states that the current case is his courtroom debut (with Turnabout Beginnings being his first courtroom appearance in the games). He also wears his lighter trench coat rather than his darker, dirtier one.
In the place of Angel Starr, Lotta Hart serves as witness to the crime who, appropriately enough, provides the court with photographic evidence.
Jake Marshall, Neil Marshall, and Mike Meekins are all absent, with no new characters taking their place.
Joe Darke is replaced with Jack Ryan. Despite the different names, the two characters are very similar.
Lotta Hart's surname is misspelled "Heart". She did not appear in Rise from the Ashes.
References to the games
Edit
In Act I, the news bulletin announcer's mug features an image of the coffee-loving prosecutor Godot from Phoenix Wright: Ace Attorney: Trials and Tribulations. At another point, Maya Fey makes a mug of coffee that reads "Godot blend no. 107" on the side.
References
Edit
↑ Capcom and Takarazuka Revue Announce "Phoenix Wright: Ace Attorney 2"!. March 2, 2009. Capcom - Press Release. Retrieved on May 07, 2014.
↑ Destructoid interview: Ghost Trick's Shu Takumi. July 21, 2010. Ben Perlee for Destructoid.com. Retrieved on May 16, 2014.
↑ CRN Interview: "Phoenix Wright" Composer Noriyuki Iwadare at Japan Expo 2013. September 11, 2013. Yomimaid for Crunchyroll.ca. Retrieved on May 17 2014.
Community content is available under
CC-BY-SA
unless otherwise noted.