This article contains information about Ace Attorney media that has been released only in Japan.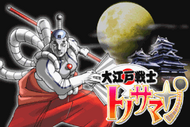 The information in this article comes from a game, demo, or other media that has been released in Japan, but not in any predominantly English-speaking country. The subject of this article has not been officially revealed for English versions of this media. English versions of this content are only available through unofficial translations. More information on this can be found here.
If you have personal experience with the item of media in question, you can help the Ace Attorney Wiki by improving on this article. Please heed the manual of style when adding information.
We need more pieces to finish this puzzle.
This article is under construction. While it is not short, it still needs expansion as outlined in the manual of style. The article most likely needs expansion near the end of the tagged section or sections.
Gyakuten Saiban 2: The Truth Reborn, Again... (逆転裁判2 −蘇る真実, 再び..., lit. "Turnabout Trial 2 - Truth Resurrected, Again...") is the second of three musicals based on the Ace Attorney video game series. A collaboration between Capcom Japan and the Takarazuka Revue, an all-female musical theater troupe, the show starred Cosmos Troupe's Tomu Ranju in the lead role. After the success of the first musical, Gyakuten Saiban: The Truth Reborn, this sequel was performed from August to September, 2009. The first and second musicals drew a total combined attendance of over 50,000 people.[1] Unlike for the first musical, the game series creator, Shu Takumi contributed some feedback midway through production[2].
As with its predecessor, this show uses the names from the English localizations of the games, despite being a Japanese production (e.g., Phoenix Wright instead of "Ryuuichi Naruhodou"). The plot of the first half of this musical is completely original, while the second half is loosely based on the events of Farewell, My Turnabout.
Plot
[
]
Act 1
[
]
A few months after his defense of Leona Clyde, Phoenix Wright has moved his practice to his hometown in California. However, Wright was now a broken man, as Clyde died in an accident shortly after he cleared her of murder charges. He had lost his drive to be a lawyer, and was considering retirement.
Whilst in his hometown, a woman named Lucia Aleia asked him to defend her mother in court. When asked why, she explained that her mother was the teacher for his classroom trial and he takes the case, ready to take on Franziska von Karma in court.
Act 2
[
]
Maya Fey is kidnapped and Wright is blackmailed into defending the true culprit against Miles Edgeworth.
After the case, Wright decides to continue his law career after having a talk with Aleia. They part ways, and Wright walks into the sunset.
Songs
[
]
The background music and sound effects used were arranged by the Revue based on Noriyuki Iwadare's orchestra score[3]. The following are the main musical numbers created just for the show in the order that they appear:
Cast
[
]
Chorus Members
[
]
Ibuki Amakaze
Eru Sasara
Tonika Amaki
Yuna Sahane
Miko Yumeri
Reina Chisa
Mau Anri
Hikaru Aizuki
Ririko Nanase
Moa Aishiro
Rian Yumesuzu
Keito Kazami
Kokomi Yukino
Rei Sakurane
Rio Hoshizuki
Airi Hanasaki
Ouki Haruse
Seiya Kagami
References
[
]