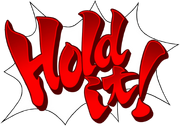 "Hold it!" is one of the three original speech bubbles alongside "Objection!" and "Take that!" It serves many purposes in-game, usually related to interrupting courtroom proceedings or a witness testimony.
Characters with "Hold it!" voice clips
Edit
Voice clips are usually limited to playable characters in most Ace Attorney games, with the notable exception of Professor Layton vs. Phoenix Wright: Ace Attorney, Dai Gyakuten Saiban: Naruhodō Ryūnosuke no Bōken, and Dai Gyakuten Saiban 2: Naruhodō Ryūnosuke no Kakugo.
Community content is available under
CC-BY-SA
unless otherwise noted.