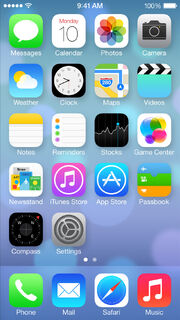 iOS is Apple's mobile operating system developed originally for the iPhone, and later deployed on the iPod Touch and iPad as well. It is derived from Mac OS X, with which it shares the Darwin foundation, and is therefore a Unix-like operating system by nature. In iOS, there are four abstraction layers: the Core OS layer, the Core Services layer, the Media layer, and the Cocoa Touch layer. The operating system uses roughly 500 megabytes of the device's storage.
Ace Attorney series on iOS
To date, only Phoenix Wright: Ace Attorney, the first game in the Ace Attorney series, is available (with the Nintendo DS sprites) in the App Store worldwide. In Japan and the United States, however, Phoenix Wright: Ace Attorney: Justice For All and Phoenix Wright: Ace Attorney: Trials and Tribulations, the next two games in the series, are also available.
Gyakuten Saiban 123HD ~Naruhodo Ryuichi-Hen, a re-release of the first three games in the series using "HD sprites" (modified from character and background art), was announced for iOS and released in Japan on Feb. 7, 2012, with an English localization titled "Phoenix Wright: Ace Attorney Trilogy HD" being released on May 30, 2013.[1] The first two cases of the first game are free, while the remaining cases and games are available as in-app purchases.
A Japanese port of Phoenix Wright: Ace Attorney: Dual Destinies was released on iOS on August 7. All content from the original Japanese release (including the exclusive quiz DLC, extra costumes, and downloadable episode Turnabout Reclaimed) is present. The first episode is free for download and the remaining episodes can be purchased individually (for episodes 2-5, a multi-pack can be downloaded instead).
Controls
Ace Attorney games on the iOS use a simple control scheme that utilize touch screen controls in a similar way to their DS counterparts. However, a few things have been changed. For example, instead of using the DS microphone to "blow away" fingerprint powder, players instead swipe the screen to remove the powder.
Gallery
References
↑ Phoenix Wright: Ace Attorney Trilogy HD coming to iOS May 30th, capcom-unity.com. Accessed on 2013-04-27.