This article contains information about Ace Attorney media that has been released only in Japan.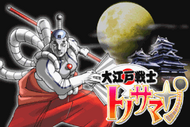 The information in this article comes from a game, demo, or other media that has been released in Japan, but not in any predominantly English-speaking country. The subject of this article has not been officially revealed for English versions of this media. English versions of this content are only available through unofficial translations. More information on this can be found here.
If you have personal experience with the item of media in question, you can help the Ace Attorney Wiki by improving on this article. Please heed the manual of style when adding information.
We need more pieces to finish this puzzle.
This article is under construction. While it is not short, it still needs expansion as outlined in the manual of style. The article most likely needs expansion near the end of the tagged section or sections.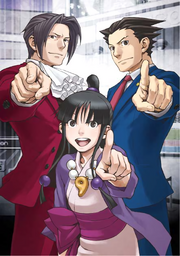 Joypolis (ジョイポリス Jyoiporisu) is an amusement park chain that was first opened on July 20, 1994 in Yokohama, Japan. Joypolis centres have since opened in several cities in Japan and China, with the parks mostly featuring arcade games and amusement rides based on Sega intellectual properties.
Despite the parks being predominately Sega-themed, there have been two special Ace Attorney-themed attractions to date: Gyakuten Saiban in Joypolis and Gyakuten Kenji in Joypolis, which are both exclusive to the Joypolis amusement park in Odaiba, Tokyo, Japan.
Gyakuten Saiban in JoypolisEdit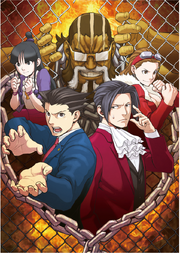 Episode 1: Turnabout Fly High - When the Steel Samurai is murdered at Joypolis, bad-luck magnet Maggey Byrde ends up as the prime suspect.
Episode 2: Turnabout Locked Room - A few months after the previous episode, another murder occurs at Joypolis; this time it is Rando Daiba, the manager of Joypolis, who is discovered dead inside a locked room.
Episode 3: Turnabout Don - During a fight scene between Desirée DeLite and another actress, the latter dies. The key to solving the mystery is Kogyoin Don, ruler of the entertainment world. But whose side is he on?[1]
Main characters
Edit
Other characters by episode
Edit
Turnabout Fly HighEdit
Turnabout Locked RoomEdit
Turnabout DonEdit
Gyakuten Saiban in Joypolis is held on the third floor of Tokyo Joypolis. The attraction itself works in a similar manner to the games. After being introduced to the case, players look for evidence and question people before heading to the courtroom for the trial. Players are given a court record at the start of the game, which is used to record important information for the trial and players are able to take it away with them at the end of the game.
Each episode begins with a prologue on a starter booth that is designed to introduce the player to the case. The player must then look for four special booths spread out across the same floor, with each booth providing the opportunity to acquire more information about the case, whether by investigating the crime scene, questioning a particular witness, or so on. The information acquired from these booths are then used to fill in blanks in the player's court record. When players believe that they are ready, they use the courtroom booth, which functions in a manner similar to trials in the Ace Attorney games (including pressing and objecting). Along with the "Confidence Gauge" used in the games, a time limit is used when the player is required to choose between multiple options or present evidence. At the end of the game, the player is given an "Attorney Ranking".[1]
Development
Edit
The three episodes of Gyakuten Saiban in Joypolis were written by Yukinori Kitajima (a freelance game scenario writer who also contributed to Professor Layton vs. Phoenix Wright: Ace Attorney and Phoenix Wright: Ace Attorney: Dual Destinies) and overseen by Takeshi Yamazaki. The episodes also feature original art by Tatsuro Iwamoto.
It should be noted that the events in the attraction are not set in the same continuity as the games, and thus characters from the games (such as Frank Sahwit and Ini Miney) are treated as "new" characters or "guest actors" in these stories. Gyakuten Saiban in Joypolis can therefore be thought of as taking place in a parallel universe to the games.[1]
Gyakuten Kenji in JoypolisEdit
Episode 1: Turnabout Symbol (逆転のシンボル, Gyakuten no Sinboru)
Episode 2: Turnabout Message (逆転のメッセージ)
Main characters
Edit
Other characters by episode
Edit
Turnabout SymbolEdit
Turnabout MessageEdit
Gyakuten Kenji in Joypolis is based on the second floor of Tokyo Joypolis. Participants in the game have to investigate for clues in three "episodes". After finding all the evidence, players are then advised to write their conclusions in their individual organizers. It takes around 20 minutes to investigate one of the "crime scenes" and look for clues.[2]
References
Edit
↑ 1.0 1.1 1.2 Ash. "Re: 3rd Ace Attorney in Joypolis case announced!". Court Records Forums. September 4, 2015. Retrieved on 2016-01-08.
↑ Anoop Gantayat. Sega Developing Ace Attorney Investigations Attraction. February 3, 2011. Andriasang. Retrieved on February 3, 2011.