We need more pieces to finish this puzzle.
This article is under construction. While it is not short, it still needs expansion as outlined in the manual of style. The article most likely needs expansion near the end of the tagged section or sections.
This article or section may require a cleanup.
This article or the section of it requires a cleanup. As such, you can help with the cleanup, by adding beneficial information to this article or the section. Remember, you are required to follow the manual of style. You are welcome to discuss this issue in the talk page of the article.
Note: The editor who added this tag believes this article or section should be cleaned up for the following reason: It would probably be better to make individual articles for each juror, then turn this page either into a summary or overview.
Not to be confused with the Jurist System from Apollo Justice: Ace Attorney.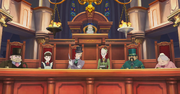 The jury is a group of six people who overlook trials with the judge. These trials take place in the Old Bailey court in the United Kingdom.
While many of them are not established characters, some of them have a very minor connection to the case and some of them inadvertently give Ryūnosuke Naruhodō an angle to go off. According to the juror manual, when a person is selected to be a juror of a trial they must keep it a secret until the day of said trial.
They are also jurors who have been named and reasonably established.
In Ryuunosuke Naruhodou's trials in the Great British Empire there consists of six jurors. They sit in front of the judge and are giving voters of fire to light the scale above the judge. If the chair behind turns black, the juror with fire their fire to the left black scale meaning "Guilty". If it's all white, that means "Innocent". Occasionally they will decide if the current defendant is guilty. If that happens then Ryuunosuke will have to examine the jurors and find which of their statements contradict the others. When he finds a contradiction, usually the jurors change their mind and say the defendant might be innocent. In addition, some jurors, even the unnamed one's, help out with the case itself.
Outside of Trials
Edit
Most of the unnamed jurors are almost never seen outside of the trial. However, a woman who looked entirely similar to the Juror No. 2 from The Adventure of the Runaway Room and The Adventure of the Unspeakable Story appeared in a stereoscope image at Hatch Windibank's shop.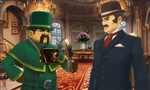 In Connette Rozaic's wax museum, there is Juror No. 1 from The Adventure of the Runaway Room and Juror No. 6 from that case. The middle-aged man tried to steal an arm of the wax figure of John Clay but Madam Rozaic caught him and knocked him unconscious. The patrolman was called to investigate a theft of one of her wax figures but he fell asleep with a newly bought scarf around his face. Holmes and Iris mistake him for Sergeant Ottermole, a serial killer who disguised himself as a patrolman a year ago.
Also, on the first day of Twisted Karma and His Last Bow, Juror No. 5 from The Adventure of the Runaway Room, simply called "bellboy" here, takes a picture of Ryūnosuke Naruhodō, Susato Mikotoba, Yūjin Mikotoba, and Seishirou Jigoku. Here he is, also or now, a bellboy for the Bandol Hotel.
Otherwise only Joan Garrideb, John Garrideb, and Anna Mittlemont have appeared outside of the trials they were jurors for, and only the latter two appeared after the trial as well.
Attempted revival
Edit
Main articles: Turnabout Succession and Jurist System
After noticing that a lack of evidence just isn't enough to receive a proper verdict, Ryūnosuke Naruhodō's descendant, Phoenix Wright, attempted to revive jury trials through a concept known as the Jurist System. A test of this system was implemented in October 2026, in the trial of Vera Misham for the murder of her father. At least six jurists participated in this trial, one of them being Lamiroir, famous singer from Borginia, and Misham was found not guilty by unanimous decision. However, no known jury trials have occurred in the United States (nor Japan) since this case.
Development
Edit
When creating the jury for the trial of Cosney Megundal. Takumi designed Juror No. 1 in the image of a certain character in the previous games. Juror No. 2 was designed as a "genuine working maid", an opposite to Joan Garrideb. It's also an occupation that easily shows British culture at the time. Juror No. 3 was designed in freestyle with a rich punk style in mind. Juror No. 4's appearance is said to be a reincarnation of a certain character, according to Takumi. Juror No. 6 was drawn with a Western old woman's unique plumpness at first, but since Takumi's image seemed to be somewhat different, they redesigned her with her current look. For Sōseki Natsume's trials, Juror No. 2 was designed as a "The Victorian-era Lady". Juror No. 3 was designed as an "absentminded youth". Juror No. 5 was designed as a manual laborer. Juror No. 6 was made as a mysterious old man.
Community content is available under
CC-BY-SA
unless otherwise noted.