This article contains information about Ace Attorney media that has been released only in Japan.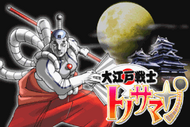 The information in this article comes from a game, demo, or other media that has been released in Japan, but not in any predominantly English-speaking country. The subject of this article has not been officially revealed for English versions of this media. English versions of this content are only available through unofficial translations. More information on this can be found here.
If you have personal experience with the item of media in question, you can help the Ace Attorney Wiki by improving on this article. Please heed the manual of style when adding information.
Leona Clyde was the defendant in the Gyakuten Saiban: The Truth Reborn musical, as well as Phoenix Wright's love interest and former classmate. She appears as an extra character in the Class trial and afterwards pursued studies to become a defense attorney along with Wright, with the dream of helping vulnerable people. She passed the bar exams and moved to New York two years prior to the plot of the musical, at which point she stopped contacting Wright. According to the performance pamphlet, her and Phoenix's home state is California in this production.
Development
[
]
The plot of Gyakuten Saiban: The Truth Reborn is heavily based upon that of Rise from the Ashes, but changed so that it is more personal to the lead character, Phoenix Wright. Leona Clyde therefore appears to be loosely based upon the character of Lana Skye with an added romantic plot.
Gallery
[
]
Pleeeeeeeease expand meeeeeeee!
This article is a stub or is otherwise incomplete. You can help the Ace Attorney Wiki by expanding it.