Magnifi Gramarye's diary was a piece of evidence in the trial of Zak Gramarye for Magnifi's murder.
Contents
[
]
Penultimate page
[
]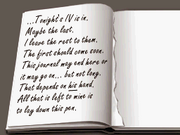 ...Tonight's IV is in.
Maybe the last.
I leave the rest to them.
The first should come soon.
This journal may end here or
it may go on... but not long.
That depends on his hand.
All that is left to mine is
to lay down this pen.
Final page
[
]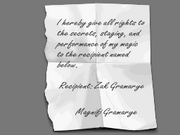 I hereby give all rights to
the secrets, staging, and
performance of my magic
to the recipient named
below.

Recipient: Zak Gramarye

Magnifi Gramarye
Pleeeeeeeease expand meeeeeeee!
This article is a stub or is otherwise incomplete. You can help the Ace Attorney Wiki by expanding it.