Arcane: League of Legends - The Loop
Play Sound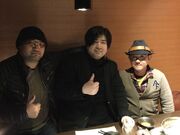 Masakazu Sugimori (杉森 雅和 Sugimori Masakazu) is a video game composer who worked on the soundtrack for Phoenix Wright: Ace Attorney and Phoenix Wright: Ace Attorney: Justice For All, as well as providing the voice of Manfred von Karma in the Japanese versions of the games. Sugimori's other works include the soundtrack for Ghost Trick: Phantom Detective.
Pleeeeeeeease expand meeeeeeee!
This article is a stub or is otherwise incomplete. You can help the Ace Attorney Wiki by expanding it.