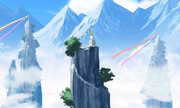 Mt. Poniponi, also known as the Little Sanctum, is a 2,298 meter (approximately 7,539 feet) tall mountain in the Kingdom of Khura'in. The Inner Sanctum, located on a mountain to the east, is visible from the mountain. The Purification Rite is performed at the Inner Sanctum when the full moon is over Mt. Poniponi.
Pleeeeeeeease expand meeeeeeee!
This article is a stub or is otherwise incomplete. You can help the Ace Attorney Wiki by expanding it.
Community content is available under
CC-BY-SA
unless otherwise noted.