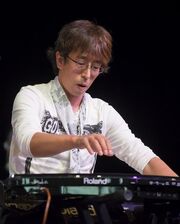 Noriyuki Iwadare (岩垂徳行 Iwadare Noriyuki) is a Japanese video game composer whose works have included Phoenix Wright: Ace Attorney: Trials and Tribulations, Ace Attorney Investigations: Miles Edgeworth, Gyakuten Kenji 2, Phoenix Wright: Ace Attorney: Dual Destinies, and Phoenix Wright: Ace Attorney: Spirit of Justice.
According to an interview in 2013, Iwadare did not know many details of the games when he was composing the music aside from some basic things about the characters[1].
Pleeeeeeeease expand meeeeeeee!
This article is a stub or is otherwise incomplete. You can help the Ace Attorney Wiki by expanding it.
Community content is available under
CC-BY-SA
unless otherwise noted.