Oh! Cult! is an occult magazine read by Maya Fey and Pearl Fey. The 2019 New Year's issue was a piece of evidence in Phoenix Wright's investigation into the murder of Misty Fey.
2019 New Year's issue
[
]
Main article: Bridge to the Turnabout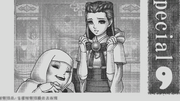 The 2019 New Year's issue, which was issued around Feb. 6, advertised the Hazakura Temple and its spiritual training. Included in the article was a picture showing Bikini and Iris, two nuns at the temple. Maya and Pearl showed this issue to Phoenix Wright in an attempt to persuade him to join them on a trip to the temple. Although Wright declined at first, after seeing the picture of Iris, who looked exactly like his ex-girlfriend and convicted murderer Dahlia Hawthorne, he agreed to go with them to work out what was going on.
The trip to Hazakura Temple resulted in a murder. On Feb. 9, during the subsequent trial, the presiding judge noted that he too had read the New Year's issue to learn more about the Kurain Channeling Technique, which was a major factor in the case.
Name
[
]
The magazine's English name is a play on the word "occult".