This article contains information about Ace Attorney media that has been released only in Japan.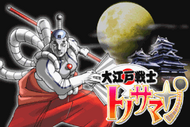 The information in this article comes from a game, demo, or other media that has been released in Japan, but not in any predominantly English-speaking country. The subject of this article has not been officially revealed for English versions of this media. English versions of this content are only available through unofficial translations. More information on this can be found here.
If you have personal experience with the item of media in question, you can help the Ace Attorney Wiki by improving on this article. Please heed the manual of style when adding information.

Onimusha Soul (鬼武者魂) is a social strategy RPG for online browsers and smartphones that was released in Japan by Capcom. Running on the Unity 3D engine and using the free-to-play business model with item-based transactions, it is Capcom's first attempt at a browser game.
Announced on March 9, 2012, the game for released for online browsers on June 28, 2012, with a smartphone release in the fall of that year. The game has only been released in Japan.
The game itself is part of the Onimusha series, and is the first browser-based entry in that franchise. The Onimusha (鬼武者, lit. "Oni Warrior") games are normally action-adventures with third person combat and puzzle solving that are set in feudal Japan during the Sengoku period (also known as the Warring State Period). Drawing their characters from the numerous influential historical figures of those times, the Onimusha games retell their stories with added supernatural elements. The games' protagonist generally wields the power of the Oni in order to combat the Genma; the main enemy in the series.
The franchise is Capcom's 6th largest (behind Resident Evil, Street Fighter, Mega Man, Monster Hunter, and Devil May Cry) and has sold at least 7.9 million copies to date.
The game combines elements of a card battle game, city building, and a strategy RPG. In the game, the player is a feudal warlord during Japan's Warring State Period. The player must manage their empire, train military commanders, recruit new warriors, and go to war with other players. Players can group together into allied groups or opposing factions, and choose to play as either Oni, Humans, or Genma. Cards are used to represent characters from the entire Onimusha series, alongside numerous crossover characters from many other Capcom franchises (including Street Fighter, Darkstalkers, Monster Hunter, Resident Evil, Breath of Fire, Mega Man, and Ace Attorney).
A Capcom Heroines pack was released for the game that included 15 female characters from various Capcom franchises. Representing the Ace Attorney series are: Kay Faraday, Maya Fey, and Franziska von Karma. Both Faraday and Fey are Oni characters.[1]
Community content is available under
CC-BY-SA
unless otherwise noted.