We need more pieces to finish this puzzle.
This article is under construction. While it is not short, it still needs expansion as outlined in the manual of style. The article most likely needs expansion near the end of the tagged section or sections.
Pure Love Chaos is the second ending theme of Gyakuten Saiban: Sono "Shinjitsu", Igiari!, the Ace Attorney anime adaptation. It was used from Reunion and Turnabout - 1st Trial to Farewell, My Turnabout - Last Trial, for a total of 10 episodes.
The song was performed by Tokyo Performance Doll.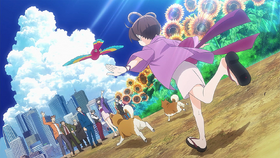 The sequence begins with a close-up image of the Blue Badger panel (from Rise from the Ashes, a game episode that was not adapted for the anime) on a blue and yellow striped background. Although the panel is initially still, it suddenly springs into life and raises its arms above its head.
The scene then switches to a front view of Pearl Fey sitting in front of a field of sunflowers, with Missile sitting on her right, the Pomeranian adopted by Miles Edgeworth in Turnabout Promise sitting on her left, and Polly sitting on her left shoulder. A sequence of images appear showing the two dogs and bird acting happily to the "camera", before returning to the four of them looking out over a skyline of a city during daybreak (with Polly now sitting on Fey's head), albeit this time viewing the quartet from behind.
Another scene switch leads to police department entrance, with the Blue Badger panel "dancing" outside. Maya Fey, wearing a school uniform, then walks over to it before stopping and smiling. A series of characters beside the Blue Badger panel is then shown: Phoenix Wright taking shelter from the rain, Edgeworth leaving the police department, and Franziska von Karma summoning Dick Gumshoe to her side. A series of images of the courtroom then follows: the judge's gavel, a view from near the witness stand, and the area where the defendant sits.
Once again, the scene returns to Pearl and her animal friends looking out over the city, with the two dogs edging in closer to her side. It then switches to the same front view that was at the start of the opening, with the four looking even happier than before, while confetti falls around them. Pearl then gets up and runs towards Wright and Maya (with Larry Butz, Gumshoe, the judge, von Karma, and Edgeworth being added in later episodes), with the bird and two dogs flying and running, respectively, ahead of her.
The design of the badges worn by defense attorneys in both the Ace Attorney series and real-life Japan is of a stylized sunflower with the scales of justice in the center; sunflowers are seen to symbolize freedom and justice owing to their habit of always facing the sun. This explains why sunflowers are so prevalent in the ending.