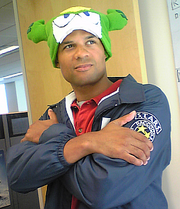 Seon King is a former Capcom member of staff who provided the voice of prosecutor Miles Edgeworth in the English and French versions of Phoenix Wright: Ace Attorney, Phoenix Wright: Ace Attorney: Justice For All, Phoenix Wright: Ace Attorney: Trials and Tribulations, and Ace Attorney Investigations: Miles Edgeworth.
Other than Ace Attorney, King also worked as part of the marketing team for 1942: Joint Strike, Beat Down: Fists of Vengeance, and Dead Rising, and was also the licensing development senior director for Dead Rising 2: Case West.
King left Capcom in October 2011 to found Nyu Media, a localization company that specializes in games made by Japanese dōjin circles.[1]
Pleeeeeeeease expand meeeeeeee!
This article is a stub or is otherwise incomplete. You can help the Ace Attorney Wiki by expanding it.
References
Edit
↑ Sainsbury, Matt (2012-05-04). "Game localisation is not all fun and games: An interview with Nyu Media founder, Seon King". Digitally Downloaded. Retrieved on 2013-06-16.
External links
Edit
Community content is available under
CC-BY-SA
unless otherwise noted.