This article contains information about Ace Attorney media that has been released only in Japan.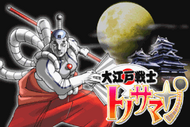 The information in this article comes from a game, demo, or other media that has been released in Japan, but not in any predominantly English-speaking country. The subject of this article has not been officially revealed for English versions of this media. English versions of this content are only available through unofficial translations. More information on this can be found here.
If you have personal experience with the item of media in question, you can help the Ace Attorney Wiki by improving on this article. Please heed the manual of style when adding information.
We need more pieces to finish this puzzle.
This article is under construction. While it is not short, it still needs expansion as outlined in the manual of style. The article most likely needs expansion near the end of the tagged section or sections.
The Storage Room within the pawn shop owned by Hatch Windibank contains most of the goods that people deposit before the go on sale.
Main article: The Adventure of the Unspeakable Story
Sherlock Holmes deposited the manuscript for the Hound of the Baskervilles within the shop. It's said to contain information saying Iris Watson's Klimt van Zieks was actually a serial killer. Holmes didn't think the young girl could handle it yet so it remained unpublished and safe in Hatch Windiback's vault.
Iris' friend, Gina Lestrade, didn't believe that the manuscript was in the vault. One night, she snuck into the shop and forced the owner to open the vault by threating him with his own gun. When she found the manuscript, Lestrade realized she wasn't lying. Suddenly, the two of them heard noise outside the vault. Windiback took his gun from the girl and went outside the vault. Lestrade heard lots of noise and by the time the owner came back he was suddenly shot in the heart! Lestrade took his gun to defend herself but fell unconscious.
Pleeeeeeeease expand meeeeeeee!
This article is a stub or is otherwise incomplete. You can help the Ace Attorney Wiki by expanding it.
Community content is available under
CC-BY-SA
unless otherwise noted.