The entrance to Studio One at Global Studios. Surrounded by trees, perhaps the most notable feature of the area is a large archway with a welcome sign hanging from it and a blue public bench set beneath. Attached to the archway is a security camera that is set to take a photograph whenever someone passes by. Beyond the archway is a statue/clock of the studio mascot "Mr. Monkey" that tells the time by "ook-ing"; one "ook" for every hour. "Mr. Monkey" holds two signs; one in his hand and one in his tail. One sign directs the viewer off to the left towards the disused Studio Two, while the other points towards Studio One, which requires a keycard to enter.
Main article: Turnabout Samurai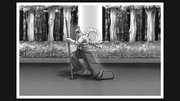 After being blackmailed by the producer Dee Vasquez for five years, the veteran actor Jack Hammer decided that he had had enough and that he would kill her. Stealing the Steel Samurai costume from fellow actor Will Powers (after drugging him with sleeping pills) to disguise himself, Hammer passed by the archway at 2:00 p.m. to confront Vasquez at Studio Two, and was photographed by the security camera in the process. A fanboy called Cody Hackins managed to sneak into the studio at around this time and was photographed by the camera also, but he became lost in the woods for 30 minutes.
Unfortunately for Hammer, Vasquez managed to defend herself by pushing her assailant onto a fence post, which killed him. Unbeknownst to those present, Hackins had managed to find Studio Two and was so shocked at seeing his idol, the Steel Samurai, defeated that he went into denial. Shortly afterwards, at 2:15, a strong wind blew the head off the Mr. Monkey clock, blocking the entrance into Studio Two until it was removed at 4:00 p.m.
Vasquez, with the help of the director Sal Manella, removed and destroyed Hammer's Steel Samurai costume, then changed him into the actor's usual Evil Magistrate costume. The body was placed into a studio van and driven to Studio One and left there. When the cast and crew arrived at Studio One at 5:00 p.m. for the scheduled rehearsal, they were shocked to discover Hammer's body. Powers was soon arrested as the prime suspect, but his defense attorney Phoenix Wright eventually figured out what had happened. Proving this in court, Vasquez confessed and Powers was acquitted.
Community content is available under
CC-BY-SA
unless otherwise noted.