The Sunshine Coliseum is a large concert hall used to hold various events including Valant Gramarye's magic acts, Berry Big Circus acts, and Gavinners concerts. It was also the scene of a murder.
John Marsh's kidnapping
Edit
Main article: The Grand Turnabout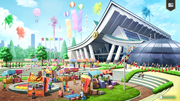 When Sebastian Debeste went missing before the trial of Patricia Roland for the murder of Horace Knightley, Miles Edgeworth enlisted Regina Berry and Simon Keyes to help search for him. The pair decided to search at the Sunshine Coliseum, but to no avail, as Edgeworth had already found the prosecutor at Blaise Debeste's home. However, the fact that fireworks were being set off at the Sunshine Coliseum allowed Edgeworth to deduce that John Marsh, who had been kidnapped, was being held in the vicinity of the concert hall.
The refrigerated warehouse just north of the coliseum is where Marsh was being held captive, before being discovered and rescued by Kay Faraday and Dick Gumshoe. It is also where "Di-Jun Huang"'s body was kept after he was killed, in order to falsify the time of death by a day.
Gavinners concert
Edit
Main article: Turnabout Serenade
Seven years later, the Gavinners performed at the coliseum, accompanied by the Borginian guest singer Lamiroir and her pianist Machi Tobaye. During the concert, Lamiroir's bodyguard, Romein LeTouse, was murdered in Lamiroir's dressing room. Tobaye was arrested for the crime, but his defense attorney, Apollo Justice, proved that the true culprit was the Gavinners' second guitarist, Daryan Crescend, who had faked his alibi.
Valant Gramarye's magic show
Edit
Main article: Turnabout Succession
Resemblance
Edit
During the Gavinners' Guilty as Charged Tour, a man wearing orange could be seen outside Sunshine Coliseum having a picnic with a woman. A few months later, another figure in the same location can be seen outside the Coliseum during Valant Gramarye's stage show wearing pink and painting. They may be references to Phoenix Wright's childhood friend Larry Butz.
Pleeeeeeeease expand meeeeeeee!
This article is a stub or is otherwise incomplete. You can help the Ace Attorney Wiki by expanding it.
Community content is available under
CC-BY-SA
unless otherwise noted.