Fire Emblem Warriors: Three Hopes - The Loop
Play Sound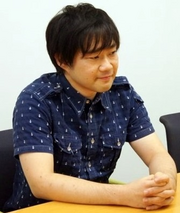 Takeshi Yamazaki (山崎 剛 Yamazaki Takeshi) is a Japanese video game director who was employed with Capcom from 2005 to July 2020.[1] His first involvement with Ace Attorney was with Phoenix Wright: Ace Attorney (Gyakuten Saiban: Yomigaeru Gyakuten in Japan, and a Nintendo DS re-release of the original Game Boy Advance game Gyakuten Saiban), where he worked on the game's planning with Shu Takumi. He acted in the same role for Phoenix Wright: Ace Attorney - Justice for All and Phoenix Wright: Ace Attorney - Trials and Tribulations. He was also involved in the planning of Apollo Justice: Ace Attorney with Keisuke Yamakawa.
Yamazaki went on to become the director for Ace Attorney Investigations: Miles Edgeworth, Gyakuten Kenji 2, Phoenix Wright: Ace Attorney - Dual Destinies, and Phoenix Wright: Ace Attorney - Spirit of Justice. The appearance of the character Buddy Faith was reportedly modeled after him.
Beginnings
[
]
Yamazaki loved mystery fiction, and read a lot of the genre in university. He learned about Gyakuten Saiban through word of mouth, and became a fan. He credits his love of Takumi's game for his decision to seek employment at Capcom.[2]
Planner
[
]
His first role as planner of the DS release of Phoenix Wright: Ace Attorney involved many tasks, such as determining how the game would be adapted to the two screens. He was also in charge of the English release, working with the translators and conveying to them the feeling that the original development team was going for. He also worked on the presentation details, such as the speed and timing of text and other events. He has said that Takumi and producer Minae Matsukawa frequently got angry at him in his first year on the job.[2]
With the development of Apollo Justice: Ace Attorney, Yamazaki was able to be involved with more tasks. One of his jobs was to write specification documents based on the scenario written by Takumi, to help the programmers and artists understand what to work on. He also worked on flavor text, like the kind that appears when examining part of an investigation scene. He was also responsible for working on the scientific investigation elements, such as footprint analysis.[2]
References
[
]
External links
[
]
Pleeeeeeeease expand meeeeeeee!
This article is a stub or is otherwise incomplete. You can help the Ace Attorney Wiki by expanding it.