watch 02:43
The Loop (Games)
This article contains information about Ace Attorney media that has been released only in Japan.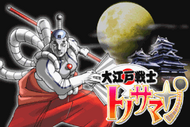 The information in this article comes from a game, demo, or other media that has been released in Japan, but not in any predominantly English-speaking country. The subject of this article has not been officially revealed for English versions of this media. English versions of this content are only available through unofficial translations. More information on this can be found here.
If you have personal experience with the item of media in question, you can help the Ace Attorney Wiki by improving on this article. Please heed the manual of style when adding information.
Episode 1: The Adventure of the Great Departure is the first episode of the game Dai Gyakuten Saiban: Naruhodō Ryūnosuke no Bōken and follows Ryūnosuke Naruhodō's first appearance in court. In his first trial, Ryūnosuke is tried for the murder of a British professor, Doctor John H. Watson, despite having no knowledge of law. Ryūnosuke Naruhodō, Kazuma Asōgi, Taketsuchi Auchi, Satoru Hosonaga, Yūjin Mikotoba, Susato Mikotoba, Sanmon Sonohigurashi, Taizou Uzukumaru, and Jezail Brett all make their débuts in this episode.
Out of all tutorial episodes in the Ace Attorney games, The Adventure of the Great Departure is the longest of all the games, consisting of three trial segments.
Crime
At dinner time in the western restaurant, La Quantos, a gunshot rang through the establishment. All of the patrons looked to see a young man holding a gun in front of the body of a deceased English gentleman.
Community content is available under
CC-BY-SA
unless otherwise noted.