This article contains information about Ace Attorney media that has been released only in Japan.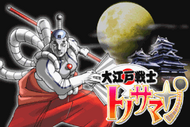 The information in this article comes from a game, demo, or other media that has been released in Japan, but not in any predominantly English-speaking country. The subject of this article has been officially revealed for English versions of this media. English versions of this content are only available through unofficial translations. More information on this can be found here.
If you have personal experience with the item of media in question, you can help the Ace Attorney Wiki by improving on this article. Please heed the manual of style when adding information.
The Great Ace Attorney 2: Resolve (大逆転裁判2 -成歩堂龍ノ介の覺悟-; lit. "Great Turnabout Trial 2: The Resolve of Ryūnosuke Naruhodō") is the eleventh installment of the Ace Attorney series of text adventure video games, originally released on the Nintendo 3DS in 2017. It is the second half of The Great Ace Attorney Chronicles for PlayStation 4, Nintendo Switch, and PC,[2] being the sequel to The Great Ace Attorney: Adventures. Like its predecessor, it is published by Capcom, produced by Motohide Eshiro, and directed by Shu Takumi, with Kazuya Nuri heading art and Yasumasa Kitagawa composing a large portion of the soundtrack.[3]
Episodes
[
]
Five full-length episodes are available in the game. Additionally, like Phoenix Wright: Ace Attorney - Spirit of Justice, there are two short semi-canonical "what-if" scenarios available to those who pre-ordered the game. Instead of following the "The Adventure of..." naming scheme of the first game (which only the first case does), this game's episode naming scheme is based on the titles of the Sherlock Holmes short story compilations (The Adventures of Sherlock Holmes, The Memoirs..., The Return..., and His Last Bow).
Ace Attorney Theater
Asinine Attorney: Japan: Kazuma Asogi is the main playable character in a scenario involving Ryunosuke Naruhodo. Asogi is preparing to study abroad and faces off against Taketsuchi Auchi.
Asinine Attorney: England: Herlock Sholmes is the main playable character in a scenario involving Barok van Zieks. Iris Wilson is arrested, so Sholmes acts as her defense attorney with Naruhodo as his assistant.
Due to being directly designed as a "Part 2" to Adventures rather than a standalone story, Resolve technically breaks some previously held conventions about the Ace Attorney franchise, most of which hinge on Resolve being a separate game. Some characters who appeared in Adventures become victims or culprits in Resolve. Judges, usually highly visible but minor characters who have little impact on the overall story, are more involved in the story of Resolve.
Characters
[
]
Because the official English localization has yet to be released, many names in this section are non-Japanese and written out in katakana. English transliterations for these names are provided; names in italics are unofficial/speculative, while bolded names are either official or references to characters from the Sherlock Holmes stories.
Main characters
[
]
Other main story characters
[
]
Recurring:
Episode 1:
Episode 2:
Episode 3:
Episodes 4 and 5:
Gameplay
[
]
The gameplay is mostly identical to Adventures, due to being directly designed as a "Part 2". The fingerprint dusting mechanic from previous Ace Attorney titles returns in this game.
Release
[
]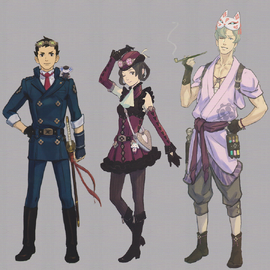 People who pre-ordered the game received two non-canonical scenarios similar to the Asinine Attorney / Ace Attorney Theater scenarios in Spirit of Justice.
Alternate costumes for Ryunosuke Naruhodo, Susato Mikotoba, and Herlock Sholmes are also available for purchase. Naruhodo and Mikotoba have Western-inspired costumes designed by Wilson, and Sholmes has a self-designed Eastern-inspired costume.
References
[
]
Gallery
[
]
Logo
[
]
Promotional artwork
[
]
Box art
[
]
Videos
[
]
Announcement teaser trailer
April 2017 trailer
External links
[
]