This article contains information about Ace Attorney media that has been
recently released and thus likely contains spoilers!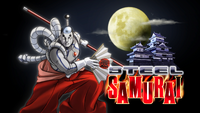 The information in this article comes from a game, demo, or other media that has been recently released worldwide. This article may need input from an editor who has personal experience with the media in question. If you have, you can help the Ace Attorney Wiki by expanding this article. Please heed the manual of style when adding information.

Readers of this page should be aware that this article likely contains MAJOR SPOILERS concerning the media in question.

You have been warned!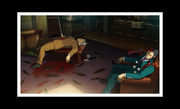 Episode 2: The Monstrous Turnabout[2] (逆転の百鬼夜行 Gyakuten no hyakkiyakō) is the second episode of the game Phoenix Wright: Ace Attorney: Dual Destinies. The Wright Anything Agency is invited by Trucy Wright's friend Jinxie Tenma for a celebration at Nine-Tails Vale. The festivities are abruptly interrupted however, when the mayor of Nine-Tails Vale is found dead with a spear through his chest and Jinxie Tenma's father is arrested as the main suspect.
This case features the return of Phoenix Wright's adopted daughter Trucy, as well as introducing the convict prosecutor Simon Blackquill and the justice-obsessed police detective Bobby Fulbright.
Wright Anything Agency
12:13 p.m.
Nine Tails Vale - Yokai Lane
1:30 p.m.
Kyubi Manor - Garden
2:05 p.m.
Murder has occurred
3:40 p.m.
Kyubi Manor - Fox Chamber
Apollo dashed into the crime scene to find raven feathers "raining" in the chamber, inhuman footprints, blood on the floor, and shocked to find the body of Alderman Kyubi and another victim with a head wound. He screams and quickly realize the other victim is still alive. Apollo then yelled for someone to call the ambulance.
Back outside with questions
Interrogation
Return to Nine Tails Vale
Return to the crime scene
Investigating
Interrogation, part 2
Defendant Lobby No. 3
April 18, 9:15 a.m.
Trial
Lobby
10:40 a.m.
Trial, part 2
10:43 a.m.
Investigating, part 2
Wright Anything Agency
1:20 p.m.
Back to the crime scene again
Regroup at the agency
Interrogation, part 3
Back to the crime scene again, part 2
Trial, part 3
9:30 a.m.
Lobby
10:25 a.m.
Final Trial
11:00 a.m.
Celebration at the lobby
1:23 p.m.
Cultural References
The wrestling match that Filch was watching during the crime is between "Howlin' Wolf" and "Pretty Boy Vampire" and commentated by "Timothy Twilight". This is a reference to the book and movie series "Twilight".
During several parts of the trial Athena says that Blackquill is winning Simon Says. This is a reference to the children's game "Simon Says" as the judge follows Blackquill's orders.
During Fulbright's second cross-examination, pressing a certain statement causes Blackquill to refer to the villagers fear of the Yokai as being as though Jack the Ripper was let loose in their village. Jack the Ripper was an infamous Victorian serial killer, who struck London in 1888 with a string of brutal killings. This reference goes along with Blackquill's British persona.
Note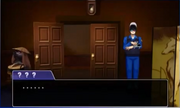 In the investigation demo trailers, a HH-3000 bomb similar to the one in Turnabout Countdown is discovered under a table at the crime scene. Ted Tonate is also discovered by Phoenix Wright after he asks Athena Cykes to check what is behind a suspicious-looking door.
References
↑ (2013-07-02). Phoenix Wright: Ace Attorney: Dual Destinies Screenshots (July 2, 2013); screenshot 3. Gematsu. Retrieved on 2013-07-04.
↑ Janet Tsu. Phoenix Wright: Ace Attorney – Dual Destinies Localization: The Trials and Tribulations of the Gameplay Mechanics Team. Capcom Unity. Retrieved on 2013-10-17.
Pleeeeeeeease expand meeeeeeee!
This article is a stub or is otherwise incomplete. You can help the Ace Attorney Wiki by expanding it.