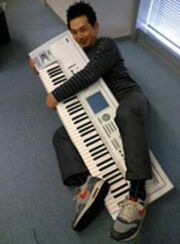 Toshihiko Horiyama (堀山 俊彦 Horiyama Toshihiko) is a Japanese video game music composer and sound designer at Capcom who is probably best known for his work on the Mega Man X series. In his earlier works he was normally credited as "Kirry", "Krsk", or "Kirikiri".
Horiyama worked on the music for Apollo Justice: Ace Attorney and Phoenix Wright: Ace Attorney: Spirit of Justice, and was the sound director for Phoenix Wright: Ace Attorney: Dual Destinies and Spirit of Justice.
Toshihiko Horiyama is credited in the following games:
Community content is available under
CC-BY-SA
unless otherwise noted.