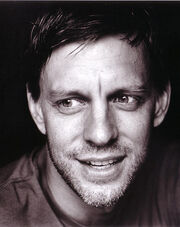 Trevor Alan White (born October 26, 1970 in Vancouver, Canada) is an actor who has worked in theatre, film, television, and radio since 1994, and has been based out of London since 2001.
White voiced Phoenix Wright in the crossover game Professor Layton vs. Phoenix Wright: Ace Attorney.
External links
Edit
Pleeeeeeeease expand meeeeeeee!
This article is a stub or is otherwise incomplete. You can help the Ace Attorney Wiki by expanding it.