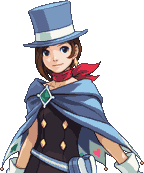 Hello there! You've found the Wright place! Welcome!
Hi! welcome to Ace Attorney Wiki! Thanks for your edit to the Apollo Justice page.
Welcome to our wiki, and thank you for your contributions! There's a lot to do around here (no, seriously), so I hope you'll stay with us and make many more improvements.
Recent changes is a great first stop, because you can see what other people are editing right this minute, where you can help, and what other people are discussing on talk pages. Users will generally explain their edits of a page in its history (click on "My Tools" and then "History" to see this) or its talk page (click on "Talk" to the right of the page title). Another great stop is our things to do page. It is highly recommended that you make frequent use of these tools to ease the process of getting into this community. It is also highly recommended that you take a look at Community Portal for links to other large Ace Attorney websites, as well as general advice on editing.
Please leave a message on my talk page if I can help with anything! -- Capefeather (Talk) 2011-02-24T12:58:04
There's been no confirmation of a sequel for Apollo Justice. That's all anyone really knows. Even the Miles Edgeworth people are apparently not touching the Apollo Justice characters just in case a sequel is made. capefeather 16:39, February 24, 2011 (UTC)
Isn't it a bit early to wonder whether there's going to be a GK3? I'm still waiting on an announcement for English GK2. capefeather 02:16, February 26, 2011 (UTC)
hello i am new here and i have a crossover game idea for ace attorney
hello i am new here and i have a crossover game idea for ace attorney
Joshuakrasinski (talk) 22:28, January 20, 2017 (UTC)joshuskrasinski
Community content is available under
CC-BY-SA
unless otherwise noted.