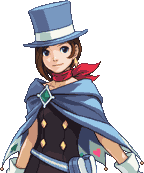 Hello there! You've found the Wright place! Welcome!
Hi! welcome to the Ace Attorney Wiki! Thanks for your edit to the Apollo Justice page.
Welcome to our wiki, and thank you for your contributions! There's a lot to do around here (no, seriously), so I hope you'll stay with us and make many more improvements.
You may have seen our welcome message when you first visited the site. If you need to refer to it again, it is located here. The pages mentioned there are all highly useful, especially the recent changes page, which allows you to see what other people are editing right this minute, including what they are discussing on talk pages. Another great stop is our things to do page, which lists areas that could use your help. Finally, the Community Portal contains links to other large Ace Attorney websites, as well as general advice on editing.
Please leave a message on my talk page if I can help with anything! Capefeather (talk) 02:46, April 20, 2016 (UTC)
Where did you get those?!
Nevermind, I found them.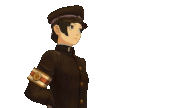 Whitehorse24 (talk) 01:20, August 8, 2017 (UTC)Whitehorse24
Sorry, was away for a while. I know you said you found them, but if anyone else is wondering, they were ripped by some fine people over at court-records, and they're in the Google Drive file linked here: http://forums.court-records.net/viewtopic.php?f=12&t=32577
Aeliren (talk) 02:30, August 8, 2017 (UTC)
Has quite a few sprite from the last game too, even the jurors with names that fit them. Speaking of the last game, the only mystery left is with Cosney Megundal and those disc's.Whitehorse24 (talk) 02:43, August 8, 2017 (UTC)Whitehorse24
Uh, if you're gonna be using some of those rips, be sure to take them from the 400x240 section. I just realized that they're slightly cut off to the right in the other section (which means desk slam and objection sprites are slightly cut off), and now I have to re-upload all of Susato's bench sprites.
Aeliren (talk) 03:42, August 8, 2017 (UTC)
But how did you save and upload them?Whitehorse24 (talk) 00:06, August 31, 2017 (UTC)Whitehorse24
Right-click -> Download -> Save File. Then I just uploaded them at http://aceattorney.wikia.com/wiki/Special:MultipleUpload (since it lets me upload 10 at once per page).
Aeliren (talk) 03:54, August 31, 2017 (UTC)
Hi, I hate to be a bother but I can't seem to find sprites for Dai Gyakuten Saiban: Naruhodō Ryūnosuke no Bōken and its sequel. It says right here the people like the Tinpillars have sprites in this google drive but I can't seem to find them anywhere.Whitehorse24 (talk) 03:35, December 18, 2017 (UTC)Whitehorse24
Well, some characters haven't been ripped yet. It's also entirely possible that they HAVE been ripped, but they haven't been put in the folder yet. There's a last possibility, and it's also very likely: they were ripped prior to July 19th, 2017, which is around the time the team acquired an actual capture card. Since they were ripped before, they were choppier and less clean, and so they removed them and haven't re-ripped them again.
Unfortunately, I can only speculate on this. If you really want to know, you'll have to ask the team that is ripping DGS sprites.
Aeliren (talk) 04:11, December 18, 2017 (UTC)
Community content is available under
CC-BY-SA
unless otherwise noted.