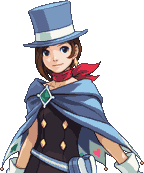 Hello there! You've found the Wright place! Welcome!
Hi! welcome to the Ace Attorney Wiki! Thanks for your edit to the Turnabout Goodbyes page.
Welcome to our wiki, and thank you for your contributions! There's a lot to do around here (no, seriously), so I hope you'll stay with us and make many more improvements.
You may have seen our welcome message when you first visited the site. If you need to refer to it again, it is located here. The pages mentioned there are all highly useful, especially the recent changes page, which allows you to see what other people are editing right this minute, including what they are discussing on talk pages. Another great stop is our things to do page, which lists areas that could use your help. Finally, the Community Portal contains links to other large Ace Attorney websites, as well as general advice on editing.
Please leave a message on my talk page if I can help with anything! Capefeather (talk) 00:37, January 27, 2016 (UTC)
Super Objection
Edit
Hi,
I hear you discovered an English-dubbed version of the echoed "Objection!" that occurs at the end of Trials and Tribulations. I was curious to hear it, but I can't seem to find it anywhere, including The Cutting Floor, whom are even searching for it themselves. Do you, per chance, still have the .mp3?
Thanks,
JensonJC (talk) 23:30, September 7, 2016 (UTC)
Heh. Is this it? I found it deep in the audio files of the iOS Phoenix Wright: Ace Attorney Trilogy HD .ipa file.
I unloaded the GS123dx.app and and found se0bf.m4a or se0bf_english_22050.m4a. Awu1996 (talk) 00:40, September 8, 2016 (UTC)
Translation
Edit
Hi, you seem to know Japanese. If you can, can you please translate this recap? I think it says something important.Whitehorse24 (talk) 19:26, July 3, 2017 (UTC)Whitehorse24
Turnabout Countdown picture
Edit
I noticed you uploaded HD versions of all Dual Destinies case selection images except Turnabout Countdown's. Could you upload that one?
Community content is available under
CC-BY-SA
unless otherwise noted.