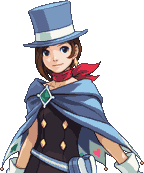 Hello there! You've found the Wright place! Welcome!
Hi! welcome to the Ace Attorney Wiki! Thanks for your edit to the User talk:Capefeather page.
Welcome to our wiki, and thank you for your contributions! There's a lot to do around here (no, seriously), so I hope you'll stay with us and make many more improvements.
You may have seen our welcome message when you first visited the site. If you need to refer to it again, it is located here. The pages mentioned there are all highly useful, especially the recent changes page, which allows you to see what other people are editing right this minute, including what they are discussing on talk pages. Another great stop is our things to do page, which lists areas that could use your help. Finally, the Community Portal contains links to other large Ace Attorney websites, as well as general advice on editing.
Please leave a message on my talk page if I can help with anything! Capefeather (talk) 17:48, July 20, 2013 (UTC)
Thank you very much!
Edit
Thanks for editing Blackquill's "Silence" page. I appreciate the help and I wish you luck on editing more articles successfully! :) New Seeker (talk) 23:19, October 1, 2013 (UTC)
In the template on your profile, if you change 'File:170px-OdorokiPirate.png|170px-OdorokiPirate.png' to '170px-OdorokiPirate.png|' (excluding quotation marks) it will show the picture.
That message turned out wrong. Unfortunately I can't demonstrate it properly, it seem. If I could delete it I would.
Spyromed (talk) 17:23, November 10, 2013 (UTC)
To get your image to show up on your profile, change "170px-Apollo_justice_s_outfit_for_fanfic_english_by_gyakutenfanatic-d6x9agh.png" to just "Apollo_justice_s_outfit_for_fanfic_english_by_gyakutenfanatic-d6x9agh.png", then remove "|size=" (or keep it and change the image size by putting in a value then "px" (e.g. 100px)). That'll also remove it from "Unused images" special page which I'm trying to clear out... - Strabo412 (talk) 01:43, January 6, 2014 (UTC)
Blackquill VA
Edit
Do you have any evidence that Travis Willingham is Blackquill's voice actor? I had a wee look about and couldn't find anywhere that said he is (including his own website), while Troy Baker is at least listed as Blackquill's VA on wikipedia and IMDb. If you have proof, that would be great. To be honest, the whole "we don't credit our voice actors" thing that the series does makes quite a few of our listings for VAs rather shaky, so any solid proof for any of them is always good. - Strabo412 (talk) 14:05, March 15, 2014 (UTC)
Forgive me for being curious, but where did you find Nahyuta's English name...or rather, spelling? CrashBash (talk) 19:56, July 2, 2016 (UTC)
Community content is available under
CC-BY-SA
unless otherwise noted.