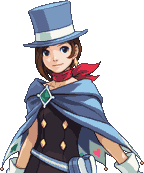 Hello there! You've found the Wright place! Welcome!
Hi! welcome to the Ace Attorney Wiki! Thanks for your edit to the Widget page.
Welcome to our wiki, and thank you for your contributions! There's a lot to do around here (no, seriously), so I hope you'll stay with us and make many more improvements.
You may have seen our welcome message when you first visited the site. If you need to refer to it again, it is located here. The pages mentioned there are all highly useful, especially the recent changes page, which allows you to see what other people are editing right this minute, including what they are discussing on talk pages. Another great stop is our things to do page, which lists areas that could use your help. Finally, the Community Portal contains links to other large Ace Attorney websites, as well as general advice on editing.
Please leave a message on my talk page if I can help with anything! Capefeather (talk) 21:57, January 27, 2014 (UTC)
1. "since I haven't figured out how to work the darn message wall"

You can leave messages on people's talk pages if you'd like to talk with them. Like so!

2. "Hey, strabo"
3. "HOW the heck did you get so good at editing???"

I wouldn't say that, as I still make plenty of mistakes. If I ever give the impression that I'm vaguely competent, it's probably because I've been editing this wiki since February 2009. So a while. Practise, practise, practise. The Community Portal and manual of style pages could be of help to you, at least for this wiki.

4. "If they gave out degrees in "Wiki-Ology", you'd definitely earn one."

That doesn't sound like a useful degree, if I'm honest. I like editing this wiki; the AA series is one of the few things I'm not very cynical about.
P.S. I don't think I've ever heard of someone playing four of the games at the same time. That just sounds really confusing to me. I'm more the sort of guy that likes to read books, play games, or watch films/TV shows in order; that way I get all the little call-backs to previous events. But each to their own I guess, as everyone has different tastes. As for the music in T&T being bad: again, everyone has different tastes, but surely out of "Dahlia Hawthorne ~ Distant Image", "Godot ~ The Fragrance of Dark Coffee" (c'mon!), "Mask☆DeMasque ~ Pleeeeease Listen!", "Luke Atmey ~ I Just Want Love", "Larry Butz ~ When Something Smells, it's Usually Me", "Victor Kudo ~ How Sad, the Melody of This War Song", "Furio Tigre ~ Swingin' Tiger" (c'mon!!), "Elise Deauxnim ~ Gentle Melody", the various Reminiscence themes, or the credits music, there has to be at least a handful of those you liked! C'mon!!! :P
Anyway, if you're enjoying the music in AA, you might want to check out the official arrangement albums that have been released - Strabo412 (talk) 13:49, February 18, 2014 (UTC)
Locations
Edit
I'll start by thanking you for all your edits. Good work! However, if you'll allow me a little criticism, may I suggest that you don't need to put in as much as you have in the location pages that you've edited so far? You really only need to put in the information that concerns that location in particular, with perhaps a sentence or so about other stuff.
An example might explain what I mean better. For Boat rental shop, you've basically summarised the plot of Turnabout Goodbyes! You given yourself a lot of work that you didn't need to do (and which makes me feel really bad that I'll have to cut out most of it)! The sorts of things that should really be on the page are: a brief intro to the page, maybe a section describing the main features of the location (e.g., somewhere to put the sort of stuff that Phoenix and Maya talk about when you examine things there), a bit about the DL-6 Incident and how Yogi came to live at Gourd Lake, Yogi luring Hammond to the shack, Yogi's framing of Edgeworth, Phoenix's investigation (including meeting Yogi and finding "Gourdy"), and small bit about the trial.
I suppose a better explanation might actually be to treat location pages like we treat character pages; try to write the article from the location's "point of view" as it were. Hopefully there's at least some sense you can gleam from this rambling nonsense I've written, and I hope you don't feel like I'm getting on at you or anything... - Strabo412 (talk) 20:06, February 27, 2014 (UTC)
Community content is available under
CC-BY-SA
unless otherwise noted.