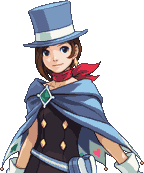 Hello there! You've found the Wright place! Welcome!
Hi! welcome to the Ace Attorney Wiki! Thanks for your edit to the Winston Payne page.
Welcome to our wiki, and thank you for your contributions! There's a lot to do around here (no, seriously), so I hope you'll stay with us and make many more improvements.
You may have seen our welcome message when you first visited the site. If you need to refer to it again, it is located here. The pages mentioned there are all highly useful, especially the recent changes page, which allows you to see what other people are editing right this minute, including what they are discussing on talk pages. Another great stop is our things to do page, which lists areas that could use your help. Finally, the Community Portal contains links to other large Ace Attorney websites, as well as general advice on editing.
Please leave a message on my talk page if I can help with anything! Capefeather (talk) 15:04, April 18, 2019 (UTC)
Reasons for your edits
Edit
I have to admit, I'm rather confused by your edit reasoning. capefeather (talk) 23:49, April 18, 2019 (UTC)
@Cape This wiki is mainly for the Japanese and English version of the game series right? It doesn't make sense to add the Russian names when there could be another wiki for the Russian version of the games in question plus they are apparently fan translation for those names that could be the same or not. Yamato98 (talk) 15:52, April 19, 2019 (UTC)
Why didn't you removed official French names and unofficial Brazilian names?
Edit
@Yamato98 Objection! This wiki has French names for characters, which are different from English and Japanese versions in order to keep puns in the language. Also you kept Portuguese Brazilian fan translation, which also has unique setting, like French and Russian versions. Nikgutendorf (talk) 21:10, April 19, 2019 (UTC)
@NikgutendorfnThat is incorrect since you need proof. From what I have seen, any important characters that has a list of names in other language, it seems to be Japanese completely. Show me proof of this since this sound like BS. HammerStrikes219 (talk) 22:49, April 19, 2019 (UTC)
Community content is available under
CC-BY-SA
unless otherwise noted.