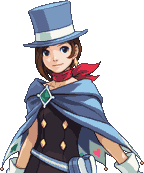 Hi! welcome to the Ace Attorney Wiki! Thanks for your edit to the Masaharu Kiyoki page.
Welcome to our wiki, and thank you for your contributions! There's a lot to do around here (no, seriously), so I hope you'll stay with us and make many more improvements.
You may have seen our welcome message when you first visited the site. If you need to refer to it again, it is located here. The pages mentioned there are all highly useful, especially the recent changes page, which allows you to see what other people are editing right this minute, including what they are discussing on talk pages. Another great stop is our things to do page, which lists areas that could use your help. Finally, the Community Portal contains links to other large Ace Attorney websites, as well as general advice on editing.
Please leave a message on my talk page if I can help with anything! Capefeather (talk) 22:40, June 20, 2016 (UTC)
Astique/Dali
Edit
I honestly thought the same for a moment, but the thing is I then saw that Dali apparently appears in Turnabout Big Top as well before appearing in The Imprisoned Turnabout. I'd have to replay it to be certain whether Dali is explicitly named as such in the original before renaming it, because otherwise if they're supposed to be one and the same it's an oversight on the part of the translation team.
Aeliren (talk) 02:51, December 2, 2018 (UTC)
Thank you for pointing this out. To be honest, I thought that Astique/Dali was exclusive to AAI2 when I made that edit, but it seems that I might have been mistaken. It's been awhile since I last played Turnabout Big Top, so I'll admit that I don't know what her name was in that case. I've reverted my previous edit until we can figure this out. DeeSeF256 (talk) 03:04, December 2, 2018 (UTC)
So, I've looked into whether Dali's name was mentioned in the English version of Turnabout Big Top. I didn't have time to play through the case again, but I did look through the case's transcript on this wiki. Neither "Dali" nor "Astique" are mentioned at all, and the word "elephant" only appears once at the very beginning (when Pearl is describing what she saw at the circus). Even the current article on Dali mentions only this brief appearance in the "Turnabout Big Top" section. It seems like the elephant was not named at all during her brief cameo in Turnabout Big Top, and was just assigned a name later in The Imprisoned Turnabout. I would, however, like to hear your thoughts on this before anything is done with the article. DeeSeF256 (talk) 03:48, December 2, 2018 (UTC)
I'm still curious as to what "oversight by unofficial English fan translation patch team" refers to. I'm not sure what Astique is supposed to refer to, while the reference to Dalí and his elephant paintings seems clear enough to me. It just seems a bit odd to me, but if there's nothing else we can just move the page to Astique. Aeliren (talk) 03:58, December 2, 2018 (UTC)
So, it looks like I was mistaken about elephants not being mentioned in the transcript. There actually is one mention during an investigation section in 2-3. If you examine the Berry Big Circus entrance, Phoenix and Maya will have this exchange:
So apparently Dali was named in Turnabout Big Top. However, this assumes that the elephant from Big Top and the one in The Imprisoned Turnabout are the same (which is probably where the "oversight by unofficial English fan translation patch team" tag comes from). If we knew what their names were in Japanese, we could tell if they were the same elephant or not. Otherwise, all we really have is speculation. DeeSeF256 (talk) 05:37, December 2, 2018 (UTC)
Thank you
Edit
Hi, I just wanna say thank you for adding the stub.
Community content is available under
CC-BY-SA
unless otherwise noted.