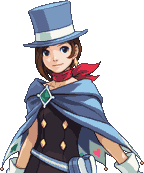 Hello there! You've found the Wright place! Welcome!
Hi! welcome to the Ace Attorney Wiki! Thanks for your edit to the Bobby Fulbright page.
Welcome to our wiki, and thank you for your contributions! There's a lot to do around here (no, seriously), so I hope you'll stay with us and make many more improvements.

You may have seen our welcome message when you first visited the site. If you need to refer to it again, it is located here. The pages mentioned there are all highly useful, especially the recent changes page, which allows you to see what other people are editing right this minute, including what they are discussing on talk pages. Another great stop is our things to do page, which lists areas that could use your help. Finally, the Community Portal contains links to other large Ace Attorney websites, as well as general advice on editing.
Please leave a message on my talk page if I can help with anything! Capefeather (talk) 19:04, August 11, 2016 (UTC)
Bobby Fulbright Edits
Edit
Even if the games make references to Metal Gear solid, that doesn't mean that anything could be called a reference. You know what, though? I'm not going to edit it this time. I started a talk about it on Fulbright's page. We'll see what they decide.Johnandsoon (talk) 19:46, August 11, 2016 (UTC)
Welp, I jumped the gun and undid the edits without reading this first. Apologies.Linkisahero 20:01, August 11, 2016 (UTC)
Someone has said that they don't think the info belongs on that talk, actually. That seems to be the general agreement. We're not the only ones who have removed this specific edit.Johnandsoon (talk) 20:05, August 11, 2016 (UTC)
I really don't see what the vexation is all about. If you can show me the rule, word for word, or have an admin tell me. then I will understand the severity of the issue we're having. But you can't just straight up tell me what I can't do without some evidence. And no the Attorney's Badge does not count as evidence lol Edgeypoo25 (talk) 20:13, August 11, 2016 (UTC)
Inquiry on Capefeather's page
Edit
Hi Edgeypoo25,
About your question about a Trivia section, feel free but make sure the trivia is relevant. (@Others: I'm right about this, right?)
By the way, please sign all talk page posts with 4 ~ tildes. Thanks, AceAttorneyMaster111 (talk) 23:22, August 11, 2016 (UTC)
Trivia sections are generally avoided as much as possible, though many pages have sections titled "Notes" that serve a vaguely similar function (in the sense of info that doesn't fit anywhere else, not in the sense of the info being trivial). This means that some trivia bits are welcome, but an effort should be made to fit them in an appropriate section (or make one) rather than collecting them in a trivia section. What I do want to caution against, though, are comparisons between AA characters and characters from other franchises. These can get highly subjective and open to interpretation, so in nearly all cases they end up being removed. capefeather (talk) 00:54, August 12, 2016 (UTC)
Ok thank you for the info. It cleared up the confusion :)     Edgeypoo25 (talk) 03:00, August 12, 2016 (UTC)
Community content is available under
CC-BY-SA
unless otherwise noted.