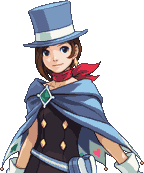 Hello there! You've found the Wright place! Welcome!
Hi! welcome to the Ace Attorney Wiki! Thanks for your edit to the Ema Skye page.
Welcome to our wiki, and thank you for your contributions! There's a lot to do around here (no, seriously), so I hope you'll stay with us and make many more improvements.
You may have seen our welcome message when you first visited the site. If you need to refer to it again, it is located here. The pages mentioned there are all highly useful, especially the recent changes page, which allows you to see what other people are editing right this minute, including what they are discussing on talk pages. Another great stop is our things to do page, which lists areas that could use your help. Finally, the Community Portal contains links to other large Ace Attorney websites, as well as general advice on editing.
Please leave a message on my talk page if I can help with anything! Capefeather (talk) 03:54, January 6, 2014 (UTC)
Cross over bubbles
Edit
Hi! How did u extract the Cross over bubbles? They look like extracted from the game! Send me a message if u see this and pls answer c:
JustJaumePS4 (talk) 19:05, January 6, 2017 (UTC)
Somewhere to talk?
Edit
Have you got somewhere to talk? Like Discord or anything like that? I wanna talk to u :D JustJaumePS4 (talk) 14:27, January 8, 2017 (UTC)
Community content is available under
CC-BY-SA
unless otherwise noted.