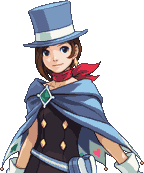 Hello there! You've found the Wright place! Welcome!
Hi! welcome to the Ace Attorney Wiki! Thanks for your edit to the Breakdown page.
Welcome to our wiki, and thank you for your contributions! There's a lot to do around here (no, seriously), so I hope you'll stay with us and make many more improvements.
You may have seen our welcome message when you first visited the site. If you need to refer to it again, it is located here. The pages mentioned there are all highly useful, especially the recent changes page, which allows you to see what other people are editing right this minute, including what they are discussing on talk pages. Another great stop is our things to do page, which lists areas that could use your help. Finally, the Community Portal contains links to other large Ace Attorney websites, as well as general advice on editing.
Please leave a message on my talk page if I can help with anything! Capefeather (talk) 15:01, November 9, 2013 (UTC)
Sarushiro & Naitō
Edit
I'll clarify why I removed the "Unnamed characters" category from Sarushiro and Naitō's pages, since what I wrote in the edit summary was probably a little vague. The reason why is basically that they have names, even if they might not be their birth names. If you look at who is in that category already, you will see characters that are either known only by their job title (the judge, his brother, and the bellboy), are spies known only by their assumed identities (Shih-na and the phantom), are impersonating someone else (the phantom, Hickfield/Hotti, and Teikun Ō's body double), are known only by their stage name (Valant Gramarye), or are known only by a "temple" name (Bikini). While I can understand where you are coming from with regards to Sarushiro and Naitō, saying that they have "no names" seems a little odd. If someone in real-life didn't know their birth name, but chose a new one and registered it, that wouldn't mean they had no name. Legally, that would be their name.
I apologise if that was a little rambling; I've never been very good at explaining what I mean. I suppose my point is pretty much that those characters have names that they are widely known as, are not aliases, and the characters themselves presumably think that to be their name. Manosuke and Sōta might even be their given birth name, we don't know. But they are not "nameless". If they were, that would mean that Tsukasa Oyashiki, Shimon Aizawa (to an extent), and even Apollo Justice are, by your definition, "unnamed"... - Strabo412 (talk)
Ahm... that was a damn good explanation, and yes, what you're saying makes sense. So thanks.
Also, just to clarify, I hadn't seen the notes left on the Sarushiro edit. I saw the Naitō one, but that didn't make any reference to it. Sorry about that, too. - Spyromed (talk) 09:03, April 5, 2014 (UTC)
PW vs PW pages
Edit
When creating pages regarding Professor Layton vs. Phoenix Wright: Ace Attorney, can you please use the "released" template? It'd be a shame to spoil the game (particularly so in the case of some of your recent pages, which are pretty spoilerific) for people who haven't played a game that hasn't even been out for a month yet. Or at least think of our poor puzzle-deprived friends across the pond! Think of the children! - Strabo412 (talk) 22:48, April 13, 2014 (UTC)
Community content is available under
CC-BY-SA
unless otherwise noted.