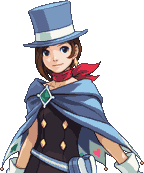 Hello there! You've found the Wright place! Welcome!
Hi! welcome to Ace Attorney Wiki! Thanks for your edit to the Talk:Reunion, and Turnabout page.
Welcome to our wiki, and thank you for your contributions! There's a lot to do around here (no, seriously), so I hope you'll stay with us and make many more improvements.
Recent changes is a great first stop, because you can see what other people are editing right this minute, where you can help, and what other people are discussing on talk pages. Users will generally explain their edits of a page in its history (click on "My Tools" and then "History" to see this) or its talk page (click on "Talk" to the right of the page title). Another great stop is our things to do page. It is highly recommended that you make frequent use of these tools to ease the process of getting into this community. It is also highly recommended that you take a look at Community Portal for links to other large Ace Attorney websites, as well as general advice on editing.
Please leave a message on my talk page if I can help with anything! -- Capefeather (Talk) 2011-01-18T01:08:03
No problem!
Edit
The beauty of a wiki is that other editors can swoop in and tidy up an edit afterwards! I do hope you will continue to help out as this poor wiki has very few frequent editors, and even fewer registered users. As for Turnabout Goodbyes, there is plenty to do if you feel up to it! There are the location pages for starters; very few of them for that case have been done (have a look at completed location pages if you're not sure what to do). Of course, there is also the article for the episode itself, which is a bit of a mess, particularly near the end. Those are the main ones I think, but of course you should feel free to edit any page you like if you see something missing! Strabo412 00:04, January 19, 2011 (UTC)
Hi. As far as where you could help goes, anything marked as a stub or as needing expansion is a prime candidate for putting content into them. As Strabo412 said, there aren't that many active contributors here, so it's nice to have more people to cooperate with. The links given on the top message of this page are good places to frequent, especially "recent changes" and "things to do". As for the templates, "location" was the original template and it kept being used after "place" was made because of a formatting bug in "place". Now that that's fixed, "location" is essentially obsolete, so if you're going to switch anything, switching "location" to "place" would be the thing to do. Also, a lot of people coming in seem to be pretty bad at English, so it's not something to worry about to much. capefeather 00:47, January 19, 2011 (UTC)
Just so you know, <!-- these headers --> in the template "code" denote which fields should and should not be used depending on what the page is about. Locations are specific points (e.g. Studio One) within the larger area (e.g. Global Studios). If you put area info into a location, it will attempt to show a map of the "area", which doesn't exist. capefeather 02:10, January 19, 2011 (UTC)
I think that you could just put in both names for evidence that changes names, and from what I remember, the lake photos are labelled "Lake Photo" and "Second Lake Photo" so that should be fine. The map templates use ImageMap. capefeather 01:06, January 20, 2011 (UTC)
New pages
Edit
Please use stub tags when making new short articles. They're easier to track that way. Thank you. capefeather 21:59, January 30, 2011 (UTC)
I kinda made a mistake editing the Viola Hall page, I am sorry, i am still new and all, since you are on, can you tell me how to correct it? I kinda made all the paragraphs in squares or something.Ace Detective 12:30, February 4, 2011 (UTC)
Yeah, I thought I screwed up badly there. Well, I fixed it. Thanks.

By the way, is thats enough information to remove the stub?Ace Detective 12:43, February 4, 2011 (UTC)
Sure, did you fix the tenses or should I go and fix them?? And I think I will remove the stub, I dont think it needs anymore expanding.Ace Detective 12:55, February 4, 2011 (UTC)
Hmmm...What did you edited in Adrian Andrews???

And, if you know info about Director Hickfield about his role in Farewell, My Turnabout it will be great if you helped.ThanksAce Detective 17:39, February 5, 2011 (UTC)
Re: Director Hickfield
Edit
Well, I remember the same thing. But, these stuff aren't good enough and were briefley mentioned in the same page, so I was kinda thinking about dumping the whole job on ya and avoid making any mistakes:)Ace Detective 19:45, February 5, 2011 (UTC)
I added what I could about Hotti, since Starbo is on he will probably correct any mistakes. Thanks anyway.Ace Detective 20:25, February 5, 2011 (UTC)
Re: Evidence lists
Edit
The quotation mark thing was my attempt to show that it was Phoenix who was saying those things under the "Descriptive text" section. However it now seems daft, since there are already parts that have quotations, such as Lotta's Deposition. Unless the game has the quotation marks, we should probably just take them out.
As for the "Check" button parts, I've been putting them in because 1) that's how it is in the game and 2) it allowed me to link to whatever image the button would lead you to. However, this is clearly impossible (or at least much more difficult) to do with the 3D parts in Rise from the Ashes, so I'm unsure what to do. How about if we can link to what the button links to, we put it in. If we can't, we don't put it in. Maybe? Strabo412 14:36, February 8, 2011 (UTC)
Thinking about it, I think you're right about replacing the "press the check button" parts with either a "Click here for details" link or the wikia button idea you were talking about. That would hopefully remove any problems with the wording in different console versions. Strabo412 14:54, February 8, 2011 (UTC)
Nice work! For evidence that gives you text when you "Check" it, I was thinking it might be worth doing something similar to what I did with the Note in Turnabout Big Top perhaps? I've also taken out the "Click here for details" parts that we don't have the "details" for yet, since I think it looks a bit odd otherwise. We can stick them back in if we get said "details". Strabo412 16:58, February 8, 2011 (UTC)
Sorry if I am bothering you. But Jessi can you come to my rescue?? You are the one I usually dump my work on. So yeah, I am too lazy to expand Recipe for Turnabout espically when there its only 30% complete. And I just hate leaving a page without finishing it to 100%. If you know about this episode, you are gonna help me out, right?0.0

By the way, I saw your exapnsion in Rise from the Ashes. I think that you summarized alot of stuff. I asked the admin dude about if I should write with all the details possible or just summarize the whole case but he still didn't answer.Ace Detective 00:29, February 11, 2011 (UTC)
Sure, call me whatever you want, Jessi.
Well, what I usually use in cases is replaying the episode or watching youtube videos about the case and write what I see. The problem that annoys me the most is the grammar and spelling and all. That's why I am going to ask the admin dude to clean up my mess in language after the I finish the case.
SOoooooo. You use walkthroughs??The problem with walkthroughs is that they only explain what the answers to the cases is, they dont explain the story which is more important as info. If you know a good walkthrough that I can copy/paste the whole thing I will be gratful.
Re: Uploading new image versions
Edit
You should probably just upload the English images and replace them on the articles. The Japanese versions could, I suppose, be used somewhere else or deleted. capefeather 23:34, February 27, 2011 (UTC)
Community content is available under
CC-BY-SA
unless otherwise noted.