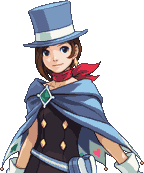 Hello there! You've found the Wright place! Welcome!
Hi! welcome to the Ace Attorney Wiki! Thanks for your edit to the Phoenix Wright page.
Welcome to our wiki, and thank you for your contributions! There's a lot to do around here (no, seriously), so I hope you'll stay with us and make many more improvements.
You may have seen our welcome message when you first visited the site. If you need to refer to it again, it is located here. The pages mentioned there are all highly useful, especially the recent changes page, which allows you to see what other people are editing right this minute, including what they are discussing on talk pages. Another great stop is our things to do page, which lists areas that could use your help. Finally, the Community Portal contains links to other large Ace Attorney websites, as well as general advice on editing.
Please leave a message on my talk page if I can help with anything! Capefeather (talk) 12:32, February 2, 2019 (UTC)
Russian fan translation
Edit
Would it be possible for you to cite the Russian fan translation you're referring to, please? Is there a website for it? - Strabo412 (talk) 12:43, February 4, 2019 (UTC)
Thanks for your quick reply! Could you also please tell me where this Brazilian Portuguese fan translation is? It would definitely be worthwhile citing where both it and the Russian translations are, as well as making it obvious on pages that they are unofficial (i.e., in a similar manner to my edits to your notes on Russian names. - Strabo412 (talk) 11:46, February 6, 2019 (UTC)
Reasoning for your logic on the names
Edit
So? You saying that using fan translation is more accurate than having a native speaker who is able to translate it well to English when it can be a mistranslation. In addition to that, this wikia has a guideline regarding names: https://aceattorney.fandom.com/wiki/Ace_Attorney_Wiki:Manual_of_style#Name_origins
Which I will quote:
"Character articles have name sections, which are meant to describe the origins and meanings behind the names of each character in every language. These sections should be written in bullet-point form, and should generally explain either the etymology of a name, or a reason a name was chosen.
Many names in the series are based on puns. As such, while the ideal would be for every name to have an official explanation as to its origin, most names' meanings are implied to be obvious enough not to be worth confirming explicitly. In fact, very few names are officially explained. This inevitably introduces subjectivity and speculation to these sections, because even a pun as obvious as "Redd White, CEO of Bluecorp" is not technically confirmed to be a pun on colors. Additionally, name sections tend not to be heavily policed, so there may be double standards as to what is deemed worthy to include. Ultimately, speculative information on name origins should be kept to a minimum, focusing on explaining etymologies and "obvious" puns. As mentioned in the above section on speculation, the Texas sharpshooter fallacy should be kept in mind here." Yamato98 (talk) 23:02, April 19, 2019 (UTC)
Community content is available under
CC-BY-SA
unless otherwise noted.