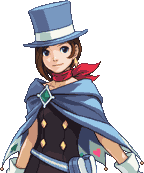 Hello there! You've found the Wright place! Welcome!
Hi! welcome to the Ace Attorney Wiki! Thanks for your edit to the User:Quetzalcoatl07 page.
Welcome to our wiki, and thank you for your contributions! There's a lot to do around here (no, seriously), so I hope you'll stay with us and make many more improvements.
You may have seen our welcome message when you first visited the site. If you need to refer to it again, it is located here. The pages mentioned there are all highly useful, especially the recent changes page, which allows you to see what other people are editing right this minute, including what they are discussing on talk pages. Another great stop is our things to do page, which lists areas that could use your help. Finally, the Community Portal contains links to other large Ace Attorney websites, as well as general advice on editing.
Please leave a message on my talk page if I can help with anything! Capefeather (talk) 17:02, September 21, 2016 (UTC)
Hi there. I was just wondering where you've been getting all of these great SoJ sprites from (as it would be nice to give credit to the source on the file pages)? Although they're very much appreciated, it would be very helpful in the future to give your uploads more descriptive file name (e.g., "Rayfa Padma Khura'in - thinking.gif" or even just "Rayfa think.gif", rather than "XmRriLl.gif"). I also notice there are some apparent gaps, particularly with sprites which already exist on the wiki (e.g., "SoJ Trucy Wright - normal.gif"). Is this intentional? Please feel free to replace any existing images if you have ones of the same quality you have been uploading. Just in case you're unaware of how to do so, I'll do a quick tutorial. Apologies in advance if any of this comes across as meddling or patronizing!
You can replace an existing image as long as the file type matches (e.g., png, jpg, etc.) by going to the file's page (e.g., File:AA_Group_Shot.png) and selecting "Upload a new version of this file" under the "File history" tab. Going into more detail, first you need to go to the original's page. Say you wanted to upload a new version of the Gourd Lake Entrance background image. First you would need to go to the image's page. You can do this in a few ways, but the simplest is probably to just click on the image (which would give you this, then click on the hyperlink in the top left-hand corner of the window that pops up (taking you here). You then simply scroll down to the "File History" tab (beside the "About" tab), which has a hyperlink called "Upload a new version of this file" just above the "Read more" links at the bottom of the page. Clicking this takes you to a new page that functions almost exactly like uploading a brand new image. The beauty of uploading your updated files this way is that previous versions of the file can be easily recovered if a mistake is made, as well as allowing users to view previous iterations of a file. Happy uploading! :) - Strabo412 (talk) 19:54, January 12, 2017 (UTC)
Thank you very much for your advice! I'm really glad that I can help you on this wiki, and I'll soon replace the old sprites.
I've found them on court-records.net. The Links are here and here. But I don't know, how and where I've to add the source. Could you help me? Quetzalcoatl07 (talk) 20:27, January 12, 2017 (UTC)
Good old Court Records! It's a pity their updated site design is taking so long, as they're an amazing resource, but it's good to see people on the forum ripping the sprites.
Don't worry about the source too much, as hardly anyone seems to do it here! But if you'd like to, you can either click the "Add a description" link under the "About" tab on an existing file or put it in the "Summary" box under "File description" when uploading. I hope that makes sense! But, as I say, don't worry about it too much, and certainly do not feel obligated to do so with existing images! - Strabo412 (talk) 21:28, January 12, 2017 (UTC)
I suppose this could be of some use for the sprite galleries, they aren't fan made.Whitehorse24 (talk) 16:47, June 29, 2017 (UTC)Whitehorse24
Thank you, and sorry about that fan-made sprite! When I saw it, I didn't recognize it's 2-D. Besides, Athena isn't moving her mouth in this state. I really don't know how I mistook this sprite ... Quetzalcoatl07 (talk) 17:02, June 29, 2017 (UTC)
Community content is available under
CC-BY-SA
unless otherwise noted.