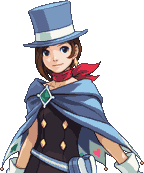 Hello there! You've found the Wright place! Welcome!
Hi! welcome to the Ace Attorney Wiki! Thanks for your edit to the Judge page.
Welcome to our wiki, and thank you for your contributions! There's a lot to do around here (no, seriously), so I hope you'll stay with us and make many more improvements.
You may have seen our welcome message when you first visited the site. If you need to refer to it again, it is located here. The pages mentioned there are all highly useful, especially the recent changes page, which allows you to see what other people are editing right this minute, including what they are discussing on talk pages. Another great stop is our things to do page, which lists areas that could use your help. Finally, the Community Portal contains links to other large Ace Attorney websites, as well as general advice on editing.
Please leave a message on my talk page if I can help with anything! -- Capefeather (Talk) 2013-04-01T23:21:06
Well, a fellow Phoenix Wright Lover. I have been involved in the series since about 2008-2009 and I must say, I love it. Now the reason I ask you this is because as sad as it is, I've never even played Rise from the Ashes, and you seem nice. Would you like to assist me in beating a case?
74.207.145.14 08:37, August 12, 2014 (UTC)Jojishi Sasusake
Tagging quotes from the fan translation
Edit
I don't see the point in doing this. It isn't done for anything else that has no official translation. capefeather (talk) 00:40, September 12, 2014 (UTC)
I don't get what you mean, because aren't we pushing through non-canon material by not tagging them? SuperbowserX (talk) 04:00, September 12, 2014 (UTC)
Is it non-canon, though? What's the difference between translating the Japanese and directly quoting the translation patch? It's also not just quotes where this has to be considered. There are the translated names, for example. capefeather (talk) 01:41, September 13, 2014 (UTC)
I highly doubt that each moment of the original game is translated perfectly to English in the translation; I'm certain that at least some of the text (in order to make contextual sense for English audiences) had to have been arbitrated. And we already list the translated names in the "Name" section of the respective articles of course.SuperbowserX (talk) 03:28, September 13, 2014 (UTC)
My point is, people are going to know one way or another that the quotes are from unofficial translations, maybe even translated from someone just looking at the Japanese text. There's no such thing as a "perfect" translation, either. capefeather (talk) 22:11, September 13, 2014 (UTC)
Community content is available under
CC-BY-SA
unless otherwise noted.