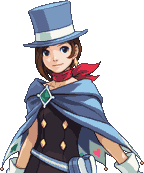 Hello there! You've found the Wright place! Welcome!
Hi! welcome to the Ace Attorney Wiki! Thanks for your edit to the Rayfa Padma Khura'in page.
Welcome to our wiki, and thank you for your contributions! There's a lot to do around here (no, seriously), so I hope you'll stay with us and make many more improvements.
You may have seen our welcome message when you first visited the site. If you need to refer to it again, it is located here. The pages mentioned there are all highly useful, especially the recent changes page, which allows you to see what other people are editing right this minute, including what they are discussing on talk pages. Another great stop is our things to do page, which lists areas that could use your help. Finally, the Community Portal contains links to other large Ace Attorney websites, as well as general advice on editing.
Please leave a message on my talk page if I can help with anything! Capefeather (talk) 22:40, September 14, 2016 (UTC)
Ace Attorney Wiki:Timeline outlines the way dating is handled on the wiki. But I guess in most cases it doesn't matter either way whether a deduced birth date is listed. capefeather (talk) 02:41, June 23, 2019 (UTC)

I meant to give an edit reason for undoing the Phoenix Wright entry but clicked on Publish by accident <_< I don't think it makes sense to just dismiss DD (and I'm pretty sure SoJ) from deducing birth dates. It's a big reason for the process described in the above link. capefeather (talk) 02:46, June 23, 2019 (UTC)

I used the Timeline to "deduce" when these characters birthdays were, as did the person in my reference. Since they were listed as "Deduced Birthday Range"s I didn't think this would be a problem. I mean the Phoenix one is somewhat understandable, that is a pretty big blip in the math, but you bringing up SoJ only narrows Miles' Birthday range to somewhere in May at the least. --TheBlackDemon1996 (talk) 11:12, June 23, 2019 (UTC)

Edgeworth ages 10 years between the first game and DD, 11 years later. Maya ages 11 years between the first game and SoJ, 12 years later. The first was already stated in the timeline policy page. The second was just added there as well. capefeather (talk) 02:19, June 24, 2019 (UTC)
Community content is available under
CC-BY-SA
unless otherwise noted.