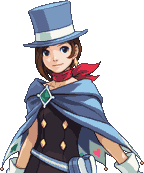 Hello there! You've found the Wright place! Welcome!
Hi! welcome to the Ace Attorney Wiki! Thanks for your edit to the Manfred von Karma page.
Welcome to our wiki, and thank you for your contributions! There's a lot to do around here (no, seriously), so I hope you'll stay with us and make many more improvements.
You may have seen our welcome message when you first visited the site. If you need to refer to it again, it is located here. The pages mentioned there are all highly useful, especially the recent changes page, which allows you to see what other people are editing right this minute, including what they are discussing on talk pages. Another great stop is our things to do page, which lists areas that could use your help. Finally, the Community Portal contains links to other large Ace Attorney websites, as well as general advice on editing.
Please leave a message on my talk page if I can help with anything! Capefeather (talk) 10:36, March 18, 2015 (UTC)
It's always been grape juice
Edit
So you know. CrashBash (talk) 09:44, December 11, 2016 (UTC)
Using forums
Edit
Hey there. I suggest using the forums for discussing topics that aren't directly related to the wiki. While people sometimes do use talk pages for these things, they're really meant for discussing the articles themselves. Just a heads up! capefeather (talk) 00:17, February 11, 2017 (UTC)
Yo. I hope I don't sound too bossy or critical here, but I've noticed that you sometimes mix past and present tense in your edits, so I thought I'd give you some pointers as to when to use each one:
We use the past tense in most sections that are written from an in-universe perspective. This includes episode summaries, characters biographies, and articles about anything else that exists within the Ace Attorney universe, such as evidence, locations, organizations, etc.
Despite being written from an in-universe perspective, the lead and personality sections of character articles are written in the present tense. If the character is deceased or a culprit, however, you should use past tense instead. Exceptions are allowed for culprits who are both still living and confirmed not to have received a life or death sentence (such as Frank Sahwit, Marlon Rimes, and Beh'leeb Inmee). Treat these like you would any other living character.
We generally use the present tense for anything that is written in an out-of-universe perspective. This includes the "Notes"/"Development"/"Trivia" sections of pretty much any article, "References to previous cases", "Cultural references", lead sections of episode articles, articles about the games themselves, music tracks, etc.
Hope this helps. Bluebully (talk) 10:48, November 25, 2017 (UTC)
Image episode categories
Edit
Perhaps you haven't been seeing my edit summaries, but images are not categorised into every single episode that they appear in on this wiki, as you'll see on any categorised image or here. I'm perfectly happy to discuss the matter, but consistency is important, and unless you feel like re-categorising almost every single image on this wiki and redoing the image categories (which would be madness), wouldn't using the current system be better? - Strabo412 (talk) 16:05, April 17, 2018 (UTC)
Community content is available under
CC-BY-SA
unless otherwise noted.