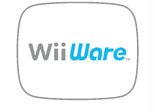 WiiWare (Wiiウェア Wīwea) is a service that allows Wii users to download games and applications specifically designed and developed for the Wii video game console made by Nintendo. These games and applications can only be purchased and downloaded from the Wii Shop Channel under the WiiWare section. Once the user has downloaded the game or application, it will appear in their Wii Menu or SD Card Menu as a new channel. WiiWare is a companion to the Virtual Console, which specializes in emulated games originally developed for other systems instead of original titles.
Ace Attorney on WiiWareEdit
So far, only the first three games (the "Phoenix Wright trilogy") in the Ace Attorney series have been released on WiiWare. The initial release of Phoenix Wright: Ace Attorney on the service did not include Rise from the Ashes, the bonus fifth case from the DS version of the game. The games were released in chronological order, excluding Rise from the Ashes, which was released after Phoenix Wright: Ace Attorney: Trials and Tribulations as DLC for Phoenix Wright: Ace Attorney.
The aforementioned WiiWare releases can also be played on the Wii's successor, the Wii U, via the Wii Shop Channel. However, as of January 30, 2019, it is no longer possible to purchase the releases, due to the closure of the Wii Shop Channel.
Players are given the option to thrust the Wii Remote forward during cross examinations to object and present evidence, as if the player were pointing their finger at a witness. Rise from the Ashes still incorporates the forensic gameplay mechanics, except this time via a Wii Remote instead of a Nintendo DS touchcreen. For example, instead of using the DS microphone to "blow away" fingerprint powder, players shake the Wii remote to remove it from the screen.
Promotional artwork‬
Edit
External links
Edit
Community content is available under
CC-BY-SA
unless otherwise noted.